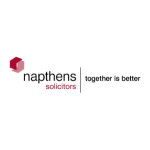 Napthens Solicitors
Napthens is a leading provider of legal services for businesses and individuals in the north west.
---
01772 348 985

01772 348 985

Private Limited Company

50 + Employees
Napthens strength is in their relationships.  You'll find them approachable and willing to listen as they take the time to get to understand your business and what you want to achieve.
Napthens have a team of specialists focused on the leisure and tourism sector.  So, whether a pub, a brewery, hotel, restaurant or a supplier, the team's experience of working with businesses within the sector means they understand the real issues facing leisure industry clients and are able to provide proactive, commercially focused advice.
For Partners of Visit Lancashire, Napthens operates a FREE, dedicated legal and business helpline.
The helpline gives partners access to a Napthens expert who can provide initial advice and guidance to resolve or progress a commercial issue.
Services include:
• Business immigration
• Business recovery
• Litigation and dispute resolution
• Commercial property and construction
• Corporate
• Commercial
• Employment and HR
• Health and safety
• Intellectual property
• Licensing
• Rural and agriculture
Advice is limited to an initial discussion of 30 minutes per matter.  Any further advice required will be quoted at preferential rates.
To access your helpline please contact the Napthens team:
T: 01772 348 985
or
E: marketinglancashiremembers@napthens.co.uk
Specialist sectors
Business and Professional
Business support
Industry
Leisure
Professional services
© 2023 Marketing Lancashire