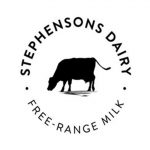 Stephensons Dairy
Stephensons Dairy has been delivering fresh milk to customers in Lancashire for over 20 years.
---
Stephensons Dairy has been delivering fresh milk to customers in Lancashire for over 20 years and have established a valuable reputation for quality and service.  Milk has always been their business and they are extremely proud to deliver a healthy, nutritious household essential to the people of Lancashire.

As the dairy crisis intensified they felt passionate that there was a new opportunity to do something positive to improve the way we value milk. There are challenges to offering milk of proven provenance to customers. That is why, Stephensons began to explore opportunities to provide the people they serve with milk from the kind of farms they would want to buy from.  Lancashire has a great climate for growing grass. Cows are inquisitive and social creatures. They were born to forage and graze.  Allowing them the freedom of the fields lets them express their natural behaviour and enjoy the diet ruminants were designed to eat.

Aware of some work being done by Somerset dairy farmer, Neil Darwent, to promote a better understanding of the value in milk and dairy products from traditional, seasonally grazed dairy herds, The Pasture Promise label was registered to help consumers make a more informed choice about the milk they buy.

Spending a great deal of time and energy building up a strong collaboration of people to work with who share the same pioneering ideas about the concept of free range milk they began to explore working with local dairy farmers and processors to provide a different product for the people they serve.  Stephensons are the first dairy company to offer free range milk under the Pasture Promise label in the UK, leading the way in promoting ethical milk that tastes great and performs well for businesses.

Free range milk is a totally new concept that sits between standard and organic milk and is able to offer an ethical milk but at an affordable price. To do this Stephensons have collaborated with and listened to dairy farmers, local processor and businesses to ensure the growing success of this new product.  In early May 2015, they became the first dairy wholesaler in the UK to adopt the Pasture Promise label across the whole business. This has led to a different approach to selling milk, founded upon a close collaboration with the farmers they source from and the processor who processes the milk.  Through discussion and negotiations with the processor Stephensons are able to provide a dedicated collection from the farms and process free range milk away from other lines; now able to guarantee provenance and traceability of free range milk. Free range milk is accredited to STS excellence in food safety standards.

In return for a commitment to grazing their cows for a minimum of 180 days and nights a year, Stephensons pass a direct premium back to the farmers.  By defining the value in milk at the farm gate, they are able to offer milk from small, sustainable dairy farms that the British public want to support.  There is growing demand for an ethical and affordable choice in milk. Stephensons are pleased to be pioneering a different approach to the ruthless competition for cheap milk that is threatening the future of the British dairy industry.

Innovation in the dairy industry, so far, has largely been about taking something out of milk or adding something to it to try and make milk new and exciting. By recognising the value of their milk by defining grazing standards, utilisation of pasture and promoting a low impact sustainable farming system, Stephensons are adding much needed value to the milk at the farm gate and winning the hearts and minds of their customers.

Stephensons Dairy is winning growing recognition across their customers from doorstep deliveries to award winning artisan coffee roasters and the free range milk is adding value to their businesses.
Our services
Dairy
Food/Drink Producer
Fresh Produce
Lancashire Produce
© 2018 Marketing Lancashire