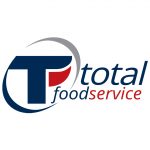 Total Foodservice Limited
With over a century of experience, they know food service. 
---
Total Foodservice is a 5th generation family food service business with values firmly set in superior quality product, trustworthy people and reliable service.  With over a century of experience, they know food service.  They know quality and value.  Total Foodservice is family run and they practice family principles.  They pledge reliability and a trustworthy relationship and promise to bring you service from people who genuinely care.

Total Foodservice's range of around 4,000 products is constantly evolving to bring you the very best ingredients of exceptional quality; from the basics such as oil, flour and dairy to exciting, innovative products and artisan produce across ambient, chilled, frozen and non-food products.

Get your cleaning and non-food items on the same delivery as your food supplies reducing your administration and order time. With big brand cleaning products as well as their own range of environmentally friendly cleaning products which are cost efficient and incredibly effective plus washroom paper dispensers and paper disposables making up some of the 4000 products lines.

With roots firmly set in Lancashire, Total Foodservice serve chefs and caterers across the Northwest and Yorkshire from their two depots in Clitheroe and Huddersfield.  Carrying a huge stock holding and working with real-time stock systems they bring you up to the minute availability.

Loved by their customers for their flexible and efficient service, from the customer service team to their warehouse pickers, delivery drivers to their accounts department, everything and everyone puts the customer and the food at the centre of what they do.

Total Foodservice offers everything you need with a minimum order value of just £50 delivered!  Serving the North West and Yorkshire.
© 2018 Marketing Lancashire