The Bee Centre's Kath - creating a buzz about bees
The Bee Centre's Kath – creating a buzz about bees
Kath Cordingley admits she wasn't entirely thrilled when she opened her birthday present from husband, Simon. Secretly hoping the white envelope contained flight tickets to somewhere exotic, the voucher for a ten-week beekeeping course didn't have her jumping for joy.
The real sting in the tale is that the 51-year-old, is also allergic to be a bee's sting – a fact she discovered alone in the middle
of a field tending one of the dozens of hives she and Simon tend to. Kath must have looked a real picture, too, driving back from Cheshire to Lancashire when she'd collected her first hive of bees with her daughter.
"We'd been on the course together and we couldn't wait to get started," remembered Kath. "We bought a hive from south Cheshire and in the car a few got loose when we were coming home. We thought it would be okay but then it just got to be too many.  In the end, we ended up putting our full beekeeping suits on so we didn't get stung. We must have looked a picture driving down the motorway."
Despite the weekly and monthly injections needed to help her develop a tolerance to the bee's venom, Kath could not be happier. She has transformed that gift into a passion and a livelihood – Kath and Simon now run The Bee Centre at Samlesbury Hall.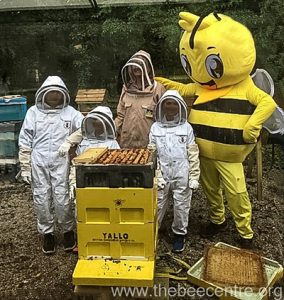 Together, as well as still working as a property developer and an environmental consultant, they run the centre to raise
awareness and knowledge of bees. They have an information centre, an observation hive as well as a viewing area overlooking the apiaries in the centre's grounds. They also do honey tasting and run beekeeping courses.
"We want to explain how important bees are and raise awareness of the valuable role they play in supporting our environment and our economy,' said Kath. 'We also look at bee pollination and we have a breeding programme on how to raise the queen bee and reduce the amount of imported bees – this helps to cut down on diseases. We have our own Lancashire bees, too, they're very calm and friendly."
Kath and Simon also offer visitors the chance to discover the working lives of honeybees, how they shape our countryside as well as their role in history over thousands of years. Kath's work at The Bee Centre has also helped visitors overcome their phobia of being stung by a bee.
"There was a young boy who was really scared of bees, really was very terrified of them," said Kath. "He came with his mum to spend some time with me here and by the end of the day he was in a suit, outside with me, looking at the hives.
I don't think his mum could believe it. That was a really special moment, I was really pleased I'd been able to help."
Kath's passion for beekeeping shines through. As well as looking after her own hives at Samlesbury Hall, she also has several dotted around the county including farmland at Brindle Distillery, and the fields at Standish Hall Farm, the home of Wignall's Yallo rapeseed oil on the edge of Standish. They have developed a gin with the Brindle business, home of Cuckoo Gin, to develop a Cuckoo Sunshine Gin using honey from their bees. The drink was named the best flavoured gin in the 2018 Gin Guide Awards.
"We're over the moon to do projects like this,' said Kath. 'It makes us really proud that our bees have been involved in making such a fantastic product. We're very proud of all we do at The Bee Centre and we're thrilled that people have really taken to it and carry on coming to see us. It's wonderful."