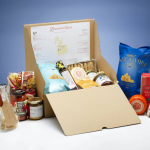 Lancashire Local
An online shop of food, drink and gift products made in Lancashire.
---
To save browsing time, the online shop brings all your favourite Lancashire businesses and products into one place.  Lancashire Local sells various Lancashire gift hampers of food and drink products.  All hampers are 100% recyclable and made from recycled materials so customers can enjoy the great tastes of Lancashire and support recycled materials at the same time!
Lancashire Local was started in 2020, during the Covid-19 pandemic, as a way to help Lancashire businesses grow their online reach both in Lancashire and across the rest of the UK.  It's a great place to browse if you're looking to buy Lancashire food, drinks or gifts and also delivers anywhere in the UK!
Our services
Beverages
Condiments
Confectionery
Gifts & Souvenirs
Lancashire Produce
Prepared Food and Snacks
Preserves
Shop
Specialist Retailer
Speciality Shop
Specialist sectors
Business support
Food and Drink
Marketing
© 2023 Marketing Lancashire