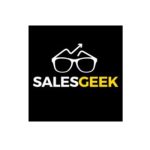 Sales Geek
Sales Geek was founded to change the way the world perceives sales.
---
Sales Geek was founded to change the way the world perceives sales. Sales has become a dirty word and we are determined to change that by helping businesses sell more products, more often, more ethically.

Our core product "Your Sales Director" helps support local, small businesses drive revenue growth in a sustainable way. Small businesses have always been priced out of the market for the top sales talent; the average starting salary for a Sales Director is £90K per year, plus bonuses. Sales Geek offers SMEs highly experienced Sales Directors on a part-time basis, for a fraction of the cost. Our Franchise program means we have Geeks working in local communities across the UK who collectively have over 500 years of Sales leadership experience. Our Geeks have worked at senior levels at blue chip companies including Fedex, Vodaphone and Tesla, to name a few.

Additionally, Sales Geek offer innovative, market-leading sales training for businesses of all sizes. We have worked with large multi-national companies such as IAG and Panasonic, government agencies such as the Department of International Trade, as well as local, small businesses that want to upskill their sales team. Our Sales Academy is a hybrid approach to learning with a mix of in-person sessions, remote live sessions delivered digitally, pre-recorded content and app-based learning, meaning anyone can develop their sales knowledge, wherever they are, whenever they need. Our sales training is bespoke and tailored for our clients who need something that works in a modern sales environment and fits perfectly with modern working practices.

The Sales Geek App is the only free sales training tool on the market, filled with hundreds of training videos and dozens of podcasts with industry leaders. It is free to use by individuals and also built-in to the training offer for our clients, where there are training management functions, white label capabilities and a digital repository of all the training they undertake with us.
Our services
consutancy
sales
Training
Specialist sectors
Professional services
Training
© 2023 Marketing Lancashire