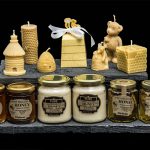 The Bee Centre
Creating a buzz about bees with top-quality, pure, local honeys and honeycomb apiaries around Lancashire.
---
01772 494487

01772 494487

Private Limited Company

2-5 Employees
The Bee Centre produce top-quality, pure, local honeys and honeycomb from their apiaries around Lancashire. They range from very mild to quite strong in flavour and from runny to set in consistency.

The flavour and texture of their honeys are determined by the nectar the bees use to make them. These vary according to the season in which the honey is produced and the location where the bees are kept, so they usually have something new and slightly different to try.

Their ethical approach to beekeeping means that they only produce limited quantities of honey as they leave most of it for the bees themselves. This increases the quality of the honey that they do take and ensures that it maximises the health benefits for their customers, and the bees.

They also stock occasional, carefully selected, guest honeys from around the UK.

They provide free honey tasting for visitors to their centre in the grounds of Samlesbury Hall.
Our services
Food/Drink Producer
Preserves
© 2022 Marketing Lancashire