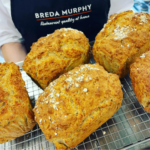 Breda Murphy
Can you be tempted with a little slice of culinary heaven? Pantry, ready meal delivery and catering collection service.
---
The pantry offers takeaway hot and cold drinks, a new range of takeaway sandwiches, cakes and pastries together with some artisan food and gift ideas.  You will also be able to buy a range of one, two and family sized meals of favourite meals for your freezer.
Hand crafted sourdough bread is created naturally using simple flour, water, salt and the most important ingredient time.  Each loaf is made by hand, from scratch without any additives, preservatives, enzymes, improvers or stabilisers.  There is no commercial yeast in any of the sourdoughs.
You can also reserve your Derby Hill Dairy Farm butter from Weeton near Preston.  Produced with delicious double cream which produces a rich, smooth butter, that is then hand patted in the traditional way using wooden paddles.  The only ingredient added to the cream is organic sea salt which gives salted butter its subtle flavour.   Fabulous with sourdough bread.
​​​​​​The pantry is brimming with freshly produced tasty treats, sweet delights and savoury goodies.  Can you be tempted with a little slice of culinary heaven?  Just call in and you'll also find fabulous wines and apéritifs and that perfect gift.
Ready meal delivery service and catering collection service available.
Our services
Bakery and Confectionery
Beverages
Condiments
food & drink
Food/Drink Producer
Gifts & Souvenirs
Lancashire Produce
Prepared Food and Snacks
Preserves
Shop
Specialist Retailer
Speciality Shop
© 2023 Marketing Lancashire