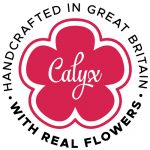 Calyx Drinks Ltd
Brighten up your day!
---
07983 613 754

07983 613 754

Private Limited Company

2-5 Employees
Calynx Drinks Ltd

The team at Calyx make delicious drinks and syrups from flowers, using natural fruit juices and spices to give a unique and refreshing taste.
Calyx are passionate about flowers and natural ingredients. The flowers are brewed using a natural production process to extract the healthy properties of the hibiscus flower.  Rich in antioxidants, vitamins A, B and C along with phenolic phytonutrients and anthocyanins. Historically ginger has been suggested to have health benefits such as treating nausea, reducing muscle pains and improving cardiac health.

Drinks:
The drinks were initially created in the founder's kitchen, brewing the hibiscus on the stove and peeling the ginger by hand. The recipe was perfected and now loved by everyone who tastes it, whether your preference is to enjoy Calyx cold, hot or as a mixer with alcohol.

Syrups:
Inspired by a love for nature and botanicals, Calyx have created a range of tasty syrups ideal in your everyday life.  A passion for flowers has driven creativity into an innovative syrup range to transform your food and drink.  Calyx rose and elderflower flavour syrups are unique in flavour and also a perfect fit in your local cafe, bar, restaurant, office and at home.  Enjoy Calyx Drinks Syrup in your favourite drinks and Calyx Dessert Syrup on your pudding and cake.
Our services
Beverages
Condiments
Food/Drink Producer
Preserves
Specialist Retailer
Speciality Shop
© 2023 Marketing Lancashire