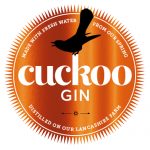 Cuckoo Gin
Inspired by the legend of 'The Brindle Cuckoo'
---
01772 323 313

01772 323 313

Private Limited Company

2-5 Employees
Cuckoo Gin

The independent distillery is situated on Holmes Farm, nestled in the beautiful undulating landscape of rural Lancashire in the north west of England, in the charming, historical village of Brindle. Housed in a renovated barn and traditional red brick farm buildings, the distillery is home to Maggie, the latest addition to the family. The delightful yet sophisticated hand-built copper column still works alongside her kinsfolk, distilling the very finest in small batch handcrafted spirits.

'Born 'n' bred in Brindle? A Brindle Cuckoo tha' be!' The legend of the Brindle Cuckoo begins in the middle ages, a time when it was a commonly held belief that on hearing the first call of the cuckoo, spring would start at a pace and the growth and fertility of the land would reward the local community with the food they relied upon. On this important occasion each year, farm workers were even given the day off to celebrate before the hard work began.
According to local folklore, one spring morning, on hearing the distinctive cuckoo call in the local fields, the villagers of Brindle hatched a plan to keep the cuckoo in the village. Believing it would bring them good farming weather not just for the spring but all year round, the locals set about building a wall around the field where the cuckoo was located.  It is said that if the wall had been built just two stones higher that the villagers would have succeeded but instead the cuckoo escaped and their plan was foiled.  Inspired by this wonderful tale of old, to this day, anyone born 'n' bred in Brindle is known as a Brindle Cuckoo, so Cuckoo Gin felt it only right that they follow in this tradition in naming their spirits, lovingly born and bred at Brindle Distillery.
Our services
Beverages
Brewery Shop
Distillery
Food/Drink Producer
Gifts & Souvenirs
Gifts and Jewellery
Market
Shop
Specialist Retailer
Speciality Shop
wholesaler
© 2023 Marketing Lancashire