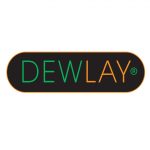 Dewlay Cheesemakers
A reputation for producing the very best range of Lancashire cheese available.
---
Dewlay was founded in 1957 by George Kenyon and over the next 50 years earned a reputation for producing the very best range of Lancashire cheese available. Today, the company is managed by 3rd generation owners Nick & Richard Kenyon and Dewlay continues to produce Lancashire cheese with the same care and attention and using the same traditional methods their grandfather used in the 1950s.

All of their Lancashire cheese is produced using fresh pasteurised milk sourced directly from dairy farms located within a 6 mile radius of the dairy and made using their own unique starter culture which they developed on site more than 40 years ago. Staying true to their Cheesemaking roots, they create a great range of the finest Lancashire cheese including their award-winning Creamy, Crumbly and Tasty Lancashire and their wonderfully creamy Garstang Blue. They also supply a range of other British Cheeses including Cheddar, Red Leicester etc. As well as being made with pasteurised milk, their Lancashire cheeses are also suitable for vegetarians.

Cheesemaking has traditionally relied on conventional sources of energy in terms of how dairies and packing facilities have been powered but conscious of the need to become more environmentally aware and rely less on traditional power sources while embracing new ones, Dewlay commissioned the construction of a 2MW wind turbine on site in late 2010. Such was the success of the project that Dewlay was the first dairy in the U.K. to be able to say that it was powered by renewable wind energy on this scale.

In 2012, they opened their Cheese Shop and viewing gallery.
Our services
Food/Drink Producer
Lancashire Produce
Shop
© 2023 Marketing Lancashire