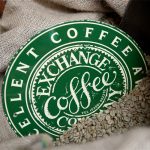 Exchange Coffee Company Clitheroe
The secret of great coffee is its freshness!
---
01200 442270

01200 442270

Private Limited Company

2-5 Employees
Exchange Coffee Company - Clitheroe
The team leading the operation at Exchange Coffee company share an incredible 135 years roasting experience between them, so no wonder it enjoys a position as one of the North's most prestigious specialty coffee empires, with a whopping 32 Great Taste Awards.
If it's riding high now, the beginnings were much more humble, with owner Mark Smith roasting beans in his garden shed 30 years ago. To date, Exchange has three roasting shops, in Clitheroe, Blackburn and Skipton, two coffee bars in Blackburn and Todmorden markets and two coffee vans.
There's also a thriving wholesale coffee roastery which is housed in a converted 1764 Baptist chapel in Blackburn, where a 1978 Probat GN25 roaster sits at the heart of the operation.
Mark has always been particular about the terroir of his coffee, knowing that geography, climate and geology have a huge impact on the profile and quality of the beans, and his team works closely with green coffee importers to source single estate, Rainforest Alliance and micro-lot coffees. 'It means we are able to select some amazing coffees of differing varietals, processing and terroir,' he says. Working alongside Cimbali and Expobar, Exchange is well versed in offering advice to start-up coffee ventures and offers barista training and service back up. But it's when Mark and his roasting team - Richard, Chris, Jo, Nathan, Lucie and Adam – start talking coffee that the excitement and sense of adventure really shines through, with a passion for coffee as strong as the day Exchange started all those years ago.
Our services
Beverages
Food/Drink Producer
Shop
© 2023 Marketing Lancashire