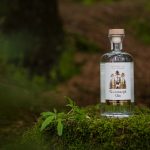 Goosnargh Gin
Gins are handcrafted using traditional distilling methods.
---
01995 641 001

01995 641 001

Private Limited Company

2-5 Employees
Goosnargh Gin is a small batch gin distillery founded and run by husband and wife team Richard and Rachel Trenchard.  Based at the foot of Beacon Fell, in the Forest of Bowland AONB, all our gins are handcrafted using traditional distilling methods.

Every bottle from start to finish is carefully produced by us, right down to handwritten details on the labels.

All our gins are chapters and are used to tell our story, with each chapter reflecting the area in which we live and distil. This is either through the choice of botanicals we use or a nod to the heritage and geography of the area.

On dates advertised throughout the year, we invite people to participate in our foraging and distilling days. An immersive gin experience, where fresh, seasonal botanicals are collected under the expert guidance of Ade Rose and under our guidance, are then used to produce their own bottle of gin to take home.
Our services
Beverages
Distillery
Food/Drink Producer
© 2023 Marketing Lancashire