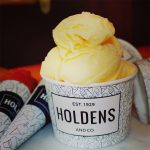 Holdens & Co.
Holdens & Co. are proud artisan, family run ice cream makers.
---
Holdens & Co. are proud artisan, family run ice cream makers. They have been making their famous dairy ice cream from the same site in Edgworth Village in Lancashire since 1929.

Their milk comes from Holstein Friesian cows who graze in the fields of the same farm they've always worked with, less than a mile up the road. They're proud that their original dairy ice cream has just 6 ingredients and boasts a buttery rich flavour and traditional texture making for a dense ice cream that doesn't melt as soon as look at it and has unique characteristics such as larger ice crystals within it. This is due to us making the ice cream to the same methods as 1929 when machinery wasn't equipped to whip so much air into ice cream the way it does now.

Since 2010 they have introduced a variety of flavours to their collection. These are made using more modern techniques so whilst retaining the quality, density and richness of the original, they are smoother have a lighter mouthfeel.

All their wholesale ice cream is sold by the 5 litre Napoli container to businesses. If you wish to buy their ice cream in other sizes they can typically accommodate 125ml individual tubs, 500ml tubs and 1 litre family tubs.
Our services
Food/Drink Producer
Lancashire Produce
Shop
© 2023 Marketing Lancashire