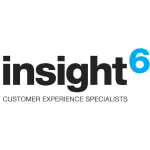 Insight6 Lancashire
We ensure your customer has a seat in your Board Room
---
We ensure your customer has a seat in your Board Room!

Delivering a memorable customer experience is the badge that every company wishes to wear, but few achieve.  Insight6 Lancashire has the expertise and a portfolio of products and services to help its clients achieve a world class customer experience.

84% of organisations working to improve CX have experienced increased revenue in 2018, and insight6 delivers customer feedback through a variety of channels.

Enthused, motivated and trained staff are crucial to delivering a memorable customer experience and Customer Journey Mapping is one workshop for staff to comprehend each digital and physical touchpoint, in order to improve conversion rates and foster customer loyalty. Loyal customers tell their friends, typically spend more money, are not as price sensitive, and drive business growth.

Working with insight6 Lancashire will ensure you get more loyal customers.
Our services
Customer Reports
Customer Service Experts
Customer Services Experience
Specialist sectors
Business and Professional
© 2018 Marketing Lancashire