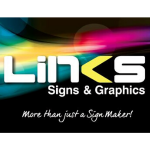 Links Signs and Graphics Ltd
Creating and maintaining links and providing a high-quality signage service.
---
Links Signs and Graphics were established in 2007, on the basis of creating and maintaining links and providing a high-quality signage service. Having grown as a business year on year, they strive to maintain and build relationships with existing customers at the same time as creating new links with new clients throughout the year.
Belief
You should only need to ask once: if they have not responded when asked the first time and you need to ask again, they believe they have failed you.  Therefore, Links always do what they say they will do, on time and within your budget and that makes them #Morethanjustasignmaker.
Most importantly
No job is too big or too small.  You will always receive full attention, as Links produce your product with your specifications in mind.  Consequently, Links have worked with a variety of businesses, including SMEs all the way up to large national corporations!  For more information about some of their previous projects please take a look through the Clients page, where you can view some of the work already completed for existing clients. Additionally, you can view the portfolio here.  Links bespoke signs are the perfect option for any business, no matter your location!
Above all
Building for a long term future, Links have invested in the latest printing machinery and software available.  The highest quality signs and graphics are produced for clients, and Links employ a range of skilled technicians, with extensive industry experience, to create beautiful, lasting signs and graphics.
Our services
Graphic Design and Branding
Print Design
Specialist sectors
Advertising
Branding
Communications
Creative and Cultural
Design
Marketing
Media
Print
© 2022 Marketing Lancashire