A rosy outlook for award-winning Lancashire Inn & Restaurant with rooms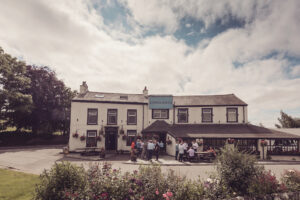 The family-owned and run, Longlands Inn & Restaurant at Tewitfield, is one of only three businesses in North Lancashire to receive a highly prestigious ROSE Award from national tourism organisation, VisitEngland this year.
The ROSE (Recognition of Service Excellence) Awards are handed out every year to a select number of accommodation providers to recognise the country's cream of the crop when it comes to customer service.
They celebrate the establishments where the owners, management, and employees provide world-class service to their visitors. All the ROSE Award winners were nominated by VisitEngland's quality scheme assessors and selected from assessor comments and online feedback from overseas and domestic visitors. The final judging panel also looks for innovation that sets the business apart including facilities or services offered to make the customer's stay really special.
In the last two years, the owners of The Longlands Inn & Restaurant, Barry Robinson and daughter, Fiona, have invested over half a million pounds in the popular canalside venue – in the building, design, and interiors, and in the training and development of staff.
Fiona said: "The extensive redesign and renovation of The Longlands has exceeded all our expectations and led to a whole new audience of visitors discovering our special inn, rooms, and cottages. We've upped our number of covers, which during our busiest periods this year has even seen the kitchen team deliver as many as 150 meals every night! There are so many great achievements to acknowledge over the last two years, however, we're always most proud of the fact that our personal touch, attention to detail, and consistently high levels of service have continued to flourish.
"We've said it before, but The Longlands is the vibrant hub of the marina and canal complex and our relaxed, welcoming atmosphere and friendly service attracts customers and keeps them coming back time and time again. To also have that underpinned by this fantastic national award really is very special and a credit to every single member of our hard-working team."
Nadine Thomson, VisitEngland Advisory Board Member, added: "The ROSE Awards celebrate and champion the accommodation businesses across England who go above and beyond in their customer service to guarantee visitors have amazing experiences.
"There truly is a place to stay to suit all tastes and budgets in England and these awards also highlight the exceptional variety on offer. From our wonderful English inns and pubs with rooms to glamping, camping, and farm-stays in beautiful countryside and coastal locations. From traditional B&Bs and self-catering cottages to luxury boutique accommodation, there really is something for everyone."
The VisitEngland ROSE Awards 2023, now in their seventh year, were presented to winners at an afternoon tea event in Surrey.
For more information on The Longlands Inn & Restaurant, visit https://longlandshotel.co.uk.
© 2023 Marketing Lancashire