Abingdon Street Market in Blackpool is back with brand-new look
Source: Blackpool Council
30 May 2023
The highly anticipated reopening of Abingdon Street Market has arrived, giving attendees the first-look opportunity as well as providing an array of performances and entertainment as it celebrates its launch.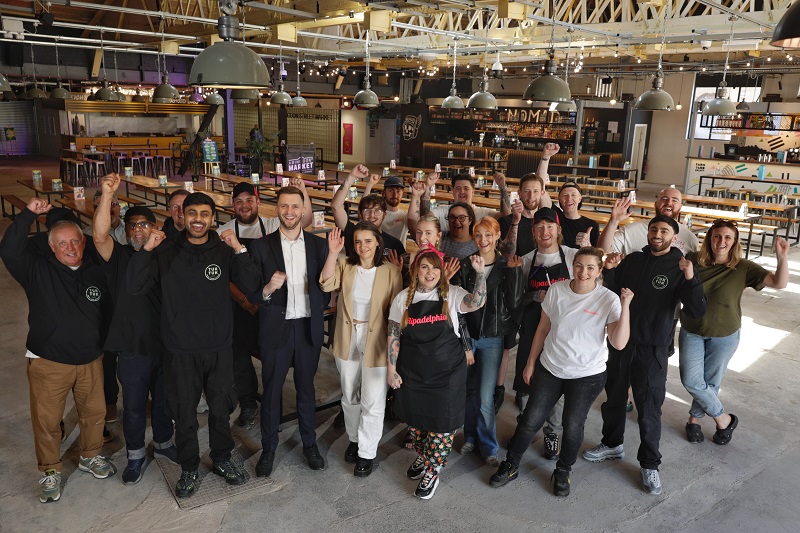 The launch is significant and is part of a much wider plan to regenerate Blackpool, boosting the economy, creating jobs and providing more things to see and do for both locals and visitors.
Local operating company, The Little Blackpool Leisure Company is the new operator of the market after it was transformed with a full internal refurbishment that has created a contemporary food and drink offer in a historic setting:
A new 250 seating area for socialising and enjoying food and beverages purchased in the market
Six dedicated food outlets including:
Neighbourhood Subs – NYC style sub sandwiches, bagels, breakfast, doughnuts and muffins plus new additions mac and cheese and grilled cheese sandwiches
PIZZA RANA – Neapolitan pizza serving up meat, vegetarian and vegan options
Flipadelphia – American diner style burgers, hot dogs and corn dogs including vegetarian and vegan options
Tuk Tuk Soul Food Kitchen – authentic Punjabi soul food from cheesy stuffed naans, curries, rice plus an ever-changing specials menu – all dishes halal and vegetarian and vegan options available
Cowboy & Co Smokehouse and Grill – serving: smoked meats, chicken wings, ribs, loaded fries and roasted meat sandwiches
Two bar areas:

Nomad – rockabilly vibe with extended craft can selection and proper cocktails
PUBLIC – natural wines, cocktails, spritzs, beers and Farm Yard Brew

Coffee Shop / Café:

R Coffee – speciality brews and bakes using only the best local ingredients – also providing vegan and vegetarian options
As well as the variety of locally focused food and drink vendors, Abingdon Street Market will also open retail units with a range of products, from fresh produce to handmade crafts and gifts later in the year.
The market will also be available for use as an events space, and the operators hope to use it for community events, live music and charity-led initiatives.
Cllr Mark Smith, Cabinet Member for Levelling Up (Place), Blackpool Council, said:  
"We're delighted that Abingdon Street Market is reopening with a brand-new look and feel.
"The improved Abingdon Street Market will provide a wonderful opportunity for locals to enjoy all there is on offer socially, as well as creating local jobs and benefits to the wider economy.
"I am delighted we have been able to access funding which has allowed us to redevelop and future proof an important and historic building, well-known to our locals and visitors alike.
"We encourage everyone to head down and see the vision in action this coming weekend."
Andy Shields, Director of Little Blackpool Leisure Company Limited, said:
"We're ecstatic to be able to say we have arrived at our opening weekend! Abingdon Street Market is – quite literally – the heart of our town centre and it means so much to everyone in the Blackpool area. So many of us will have memories of visiting the market throughout the years and that's exactly why it has been so important to us to retain that sense of the space being a local landmark which caters for local people.
"Our inspirations is drawn by other successful market propositions such as Mackie Mayor in Manchester and Baltic Market in Liverpool, our ambition is to turn Abingdon Street Market into the beating heart of our town centre, bringing a mix of quality and most importantly local food vendors and traders under one roof."
"We can't wait to see our vision of the market really come to life"
Lancashire Enterprise Partnership Chair, Debbie Francis OBE, said:
"It's fantastic to see Abingdon Street Market officially reopened in the heart of the resort. Helping revitalise this historic Blackpool destination is also another great example of how the Getting Building Fund helps boost local economies, and supports local communities, across all parts of Lancashire."
If you are interested in learning more about opportunities available at Abingdon Street Market, please contact Little Blackpool Leisure Limited via this link: www.abingdonstreet.market
Abingdon Street Market has received £3.6 million from the UK Government through the Getting Building Fund and £315,000 from the UK Government through the UK Shared Prosperity Fund and £90k from the UK Government through the Historic England Heritage Action Zone programme.
© 2023 Marketing Lancashire