Access Fylde Coast Project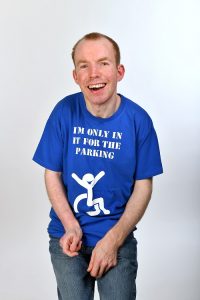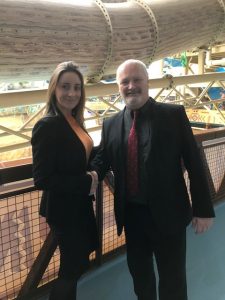 Britain's Got Talent Winner Lost Voice Guy and ITV's Lucy Meacock will be stepping on stage in Blackpool to launch a new project that hopes to put the Fylde Coast on the map as a superb place for disabled people.
Personal buddies and a digital app are just some of the schemes that will make it easier for disabled visitors and locals to access enjoyable trips and make memorable experiences across Blackpool, Fylde and Wyre as part of the near £1 million Access Fylde Coast Project.
The trailblazing venture, which will also help businesses for free across the Fylde Coast tap into an estimated £14.8million of extra revenue from the 'purple pound', will be launched on April 24 at the Blackpool Winter Gardens' Spanish Hall.
Comedian Lee Ridley (AKA Lost Voice Guy) is the first stand-up comedian to use a communication aid and is currently touring the UK with his show 'I'm Only In It For The Parking'.
He has performed on some of Britain's most prestigious stages to packed houses and is expected to lift the roof at the official unveiling of the project.
"I'm really looking forward to performing at the launch of this amazingly important project," said Lee.
"From living as a disabled person myself, I know how important it is to try to break down barriers and change the general public's view on disability. I feel that comedy is the perfect way to do this as it makes people laugh and think at the same time.
"Only when people see more disabled people being portrayed in a positive light will attitudes change."
And, respected north west-based journalist Lucy Meacock, who last year celebrated 30 years at ITV, will present guest speakers, which include Jane Cole, Managing Director of Blackpool Transport and John Child, Managing Director of Blackpool's Sandcastle to an audience, which will include local dignitaries and members from local and national tourism businesses and organisations.
The audience will also hear from tourists and disabled people about how the project will positively pave the way to make the Fylde Coast a destination for all.
The new digital app, which will make it easier for people to find disability-friendly places, toilets and special facilities, will also be unveiled for people to try it out for the first time.
The project is being spearheaded by Blackpool's Disability First after it was handed a £985,522 grant by the Coastal Communities Fund last September.
Alan Reid, CIO of Disability First, who himself became disabled when he was 20-years-old, said: "The aims and aspirations of this project has been both a lifelong, and personal aim for me.
"When I became disabled, I experienced prejudicial and hurtful comments from people, who frankly didn't know any better. I believe that disability should be taught in school so that kids can empathise with a disabled person and not make them feel like they are from 'planet disabled'."
"Times have changed around equality, but in 2019 disability has still not caught up with other strands of diversity."
"The launch is the start of us breaking down barriers to disability and helping local businesses with free disability awareness training or through access tips to give them an idea how a slight change, whether a shop, café or retail set-up, would massively help people with physical, sensory, learning and mental health disabilities.
"It will also boost their trade and we estimate that by making our beautiful and diverse coast accessible, we can attract an estimated £14.8m of additional spending from disabled visitors."
The project, Mr Reid added, will "become a beacon of excellence" that will "embed it as a best practice model throughout the UK".
Access Fylde Coast project manager Holly Whittaker, said: "My uncle was severely disabled and I know first-hand his struggles and the negative experiences he faced, so it personally matters to me to make a difference to people in the same position. Not only for tourists but for residents too.
"It's really exciting to see a cash injection from the Coastal Communities Fund the breakdown the barriers and preconceptions around disability and at the same time support local economy and boost tourism on the Fylde Coast."
The project is working with some of the most inspirational disabled performers around the globe and sourcing revolutionary technology so people with disabilities can feel 100% included in current major events, such as Lytham Festival, alongside brand new events.
Added Ms Whittaker: "This project will put the Fylde on the map for being champions in best practice for an accessible and inclusive resort."
© 2022 Marketing Lancashire