#AmazingAccrington Soapbox Challenge Wows Crowds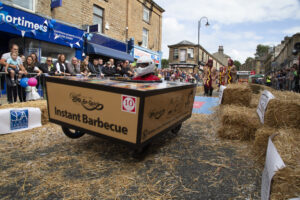 This year, the #AmazingAccrington Soapbox Challenge was listed as one of the top 30 free bank holiday activities – nationally! The crowds of over 18,000 thronged in the streets in Accrington on Saturday 26th August from 10am-4pm would certainly vouch for what a great day out it was.
The pits were open from 10am, with lots of carts on display in front of the town square to have a look at. The very first competitor out of the blocks at 11am was BBC Radio Lancashire's Graham Liver, racing a cart built by North Lancs Training Group. Graham and co presenter Leanne dressed as Mario and Luigi for the occasion and had great fun for the second year running.
The 170-metre-long Soapbox track runs from Property Shop on Blackburn Road, down into Town Square in Accrington Town Centre, and gives a great view for spectators to line the streets. The track included jumps, water jumps, chicanes, and competitors being squirted with water pistols! All profits made from entry fees will go to Maundy Relief, with the Soapbox having raised over £5,000 to date for them.
During an interval between races, spectators were treated to a Carnival spectacular with Brazilian-style dancers and a samba band, free Vuvuzelas handed out and performances from popular ska band Blowjangles and the Hyndburn Comets Majorettes.
Notable carts this year from over 30 competitors included the North West Air Ambulance with a mini Air Ambulance, Welsh team Dragon Girl with the driver being Megan Goode who is just 10 years old, and Stanley Brothers Tippers with their HGV truck! Winners were North West Air Ambulance with second place going to North Lancs Training Group and third place Chicken Run. Best dressed team was Accrington Wildcats, and best designed cart went to North Lancs Training Group with their LEGO themed cart.
The tills were also ringing in Accrington Market Hall with an indoor and outdoor market laid on for the occasion, plus the great free attraction The Code Show, celebrating how 1980's Britain embraced the home computer. A Sinclair C5 was on display and 1980s technology, such as a dial up telephone and video recorder, plus vintage computers, games consoles and free gaming machines!
Sponsors for the event include Hyndburn Borough Council, Sundown Solutions, Accrington and Rossendale College, Boohoo and Financial Affairs.
Cllr Terry Hurn, Mayor of Hyndburn, said: "The Soapbox Challenge is a really busy, well supported event for the town. Our town is filled with people enjoying themselves, and with visitors from far and wide shopping local right here in Accrington."
Ben Lee from Sundown Solutions said: "Sundown couldn't wait to sign up to sponsor the Soapbox Challenge again, it's a great day out and gets quite competitive! We also like seeing The Code Show in the Market Hall, an interactive exhibition on gaming – and we hope to spot some future Sundown talent while they're enjoying it!"
Charlotte Scheffman, Dean of the University Centre at Accrington & Rossendale College, commented: "We are proud to be a main sponsor of this event. Our talented motor vehicle engineering staff and students all worked really hard to build our soapbox! We love to support the event and be there on the day – today was like a carnival with a samba band, Brazilian dancers, the Hyndburn Comet Majorettes, and Blowjangles band performing!"
Paul Daughtry, Senior Automation and Engineering Manager at Boohoo Group PLC, said, "We stepped up to be a main sponsor this year and had our apprentice engineers working on our superb cart. It was great to see Radio Lancashire's Stephen Lowe and Graham Liver and Leanne, really added to the atmosphere – we've had a great time!"
Murray Dawson, Chair of #AmazingAccrington, commented: "The Soapbox Challenge is one of Accrington's flagship events and we love the challenge set to us every year to make it even bigger and better. We made sure the course was even more challenging, and added a carnival party style interval which went down really well with the crowd. Everyone has had a fantastic day, and we can't wait to do it all again next year!"
Check out the Amazing Accrington website www.amazingaccrington.co.uk and their social media channels for more coverage from the event.
© 2023 Marketing Lancashire