Official reopening of Astley Hall in Chorley
Source: Chorley Council
23 May 2022
After two years of work to renovate and improve the visitor experience, Astley Hall was officially reopened, during a weekend of celebrations.
Visitors were treated to two days of free entertainment in the grounds of Astley Hall, with Sir Lindsay Hoyle MP doing the official opening of the Hall at lunchtime on Saturday. He was joined by Leader of Chorley Council, Councillor Alistair Bradley, Deputy Leader, Councillor Peter Wilson and the new Mayor of Chorley, Councillor Julia Berry.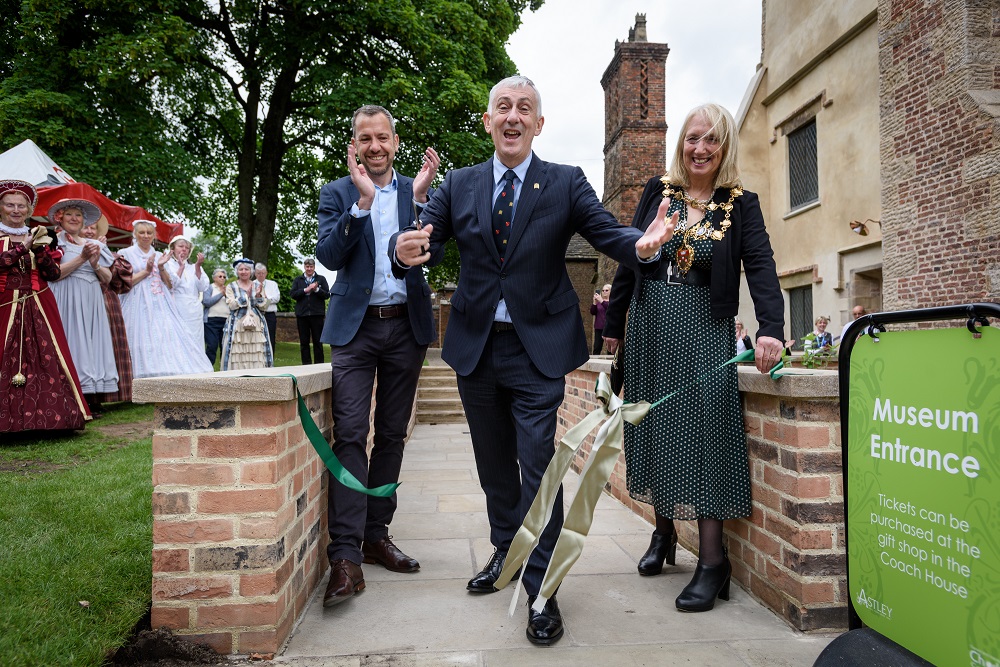 After the official opening, hundreds of ticket holders were welcomed into the Hall over the course of the two days.
Councillor Peter Wilson, Deputy Leader of Chorley Council said: "It was fabulous to welcome visitors back to the Hall and see everyone enjoying the entertainment over the weekend. We've been looking forward to this for a long time.
"Now that the Hall is open, we urge people to come and take a look, immerse themselves in the history, see the features of the building and the fantastic collections. We've opened up rooms that haven't been seen by the public before, to give an insight into the people who lived and ​worked at the Hall, as well as making the visitor journey more interactive."
Entertainment during the weekend reflected periods of the Hall's history, and featured historical combat demonstrations from Academie Glorianna, traditional routines from the Galliard Dancers, music from Outreach Opera, Café Society and the Sing it Big Choir. Historical talks covering topics such as the bronze age and the first world war were provided by volunteers Dave Goulden, Stuart Clewlow and Ste Blacklege, along with an array of kids activities on the Walled Garden lawns. The Friends of Astley Hall and the Astley Walled Gardeners were also in attendance, along with local food and drink businesses.
Over the last two years, the Hall has benefited from removal of the exterior render to expose 17th century brickwork, new and restored windows, strengthening of the main staircase, redecoration, new entrance, new interpretation, as well as a remapped visitor journey.
Councillor Wilson continued: "We've created a visitor destination that we hope will attract visitors from across the region. There's plenty to do within the park for a full day – as well as enjoying the Hall, visitors can see one of the exhibitions in the Coach House Gallery, visit the Gift Shop or one of the businesses in the courtyard, grab a bite to eat, visit the fantastic play areas."
Astley Hall will now be open Wednesdays – Sundays with further information on times and tickets prices available at astleypark.co.uk/hall
© 2023 Marketing Lancashire