Blackpool Council signs terms of its £39.5m Town Deal
Source: Blackpool Council
17 November 2020
Blackpool Council has formally signed the terms of its £39.5m Town Deal and welcomed a new era of partnership working with the Government.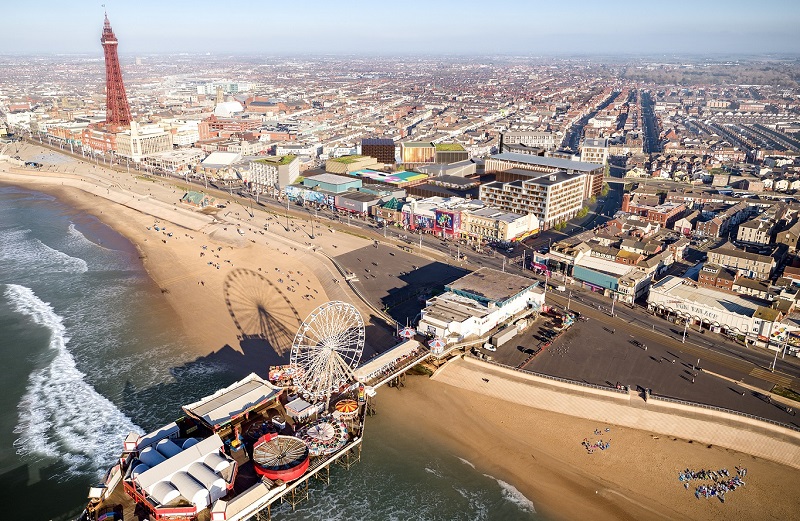 It says that the deal, which will provide a huge boost to the town's regeneration and post-COVID economic recovery, opens the door for a wider conversation with the Government about future ways to support and revitalise the town.
Cllr Lynn Williams, Leader of the Council, said: "This funding allocation is a very welcome contribution to our ongoing regeneration.
"The deal will help facilitate some key projects but we are hopeful that this is only the start of the journey. We want to open up a wider conversation with Government about ways in which they can help the town to achieve its long-term aspirations.
"Our vision for Blackpool is ambitious but very much achievable if we can secure the right level of support."
Within the deal, which was secured as part of the Towns Fund programme, Blackpool Council and the newly-established Town Board has proposed a range of projects that will help transform the town.
Paul Smith, Chair of the Board, said: "I would like to thank the Town Board for the immense work that has been done to get us this far. We are committed to working hand in hand with central Government over the coming years to create a brighter future for the town and its residents.
"We are extremely grateful to the Ministry for Housing, Communities and Local Government (MHCLG) for the belief they have showed in our plans to revitalise Blackpool. This is the first step to realising our vision for the area and we look forward to working across Government to tackle other important local issues and place-based funding such as healthcare and education."
The funding granted will help to deliver a number of the projects that were submitted by the Council for assessment for the Towns Fund. Some of these projects include:
Relocation of Blackpool Magistrates and County Courts – a catalyst to the delivery of the Blackpool Central development project, destined to be the biggest single investment In Blackpool for more than a century. With £300m of private investment, Blackpool Central will deliver a new, year-round leisure facility on the former Central Station site, creating more than 1,000 jobs and attracting an additional 600,000 visitors per year.
Multiversity – A new world- class learning facility that aims to be the country's first carbon-negative university centre. Based in the heart of the town centre, it will increase the range of local skills that are suited to the local employment needs, help over 1,000 new learners into education and gain qualifications, and improve the percentage of working-age population with qualifications.
Blackpool Youth Hub – This will provide a virtual and physical focal point for coordinated delivery of employability and skills provision for 16-24 year olds NEETs (Not in Education, Employment or Training), including those recently made redundant and unable to complete in-work vocational qualifications and apprenticeships. The project will deliver a renovated facility, engage with 500 employers, and assist 500 new learners into education.
Revoe Community Sports Village – The project aims to transform the inner area of Blackpool through redevelopment of an abandoned site, a new community sports facility, new commercial floor space, development of local skills, and improved land and property.
Investment in infrastructure at Blackpool Airport Enterprise Zone – to increase development opportunities, improve access and advance both physical and digital connectivity. It will open up 15 hectares of land for development, deliver 32,000 sq m of new high-quality commercial floor space enabling around 12 new businesses to locate on the Enterprise Zone, creating up to 600 new jobs and creating 1.5km of new road access that will improve traffic flow around the site.
The Edge – This proposed new incubation office space in Stanley Buildings will provide a centre of excellence for entrepreneurs and a focal point for nurturing growth of small businesses. The project will deliver high-quality, affordable commercial floor space in the town centre, provide infrastructure to support full fibre connectivity, and create the opportunity for closer collaboration with employers.
Modernisation of Blackpool Illuminations – This project will renew and re-invigorate Britain's biggest light show, as well as building on the successful Lightpool Festival. It will deliver upgraded electrical infrastructure to support town centre lighting, create new light-based features and art installations on the Promenade, created in conjunction with recognised artists. The five-year investment seeks to permanently extend the season to rejuvenate a tourism industry blighted by the pandemic.
The Council and Town Board will now work with Government to demonstrate the feasibility, viability and value for money of the various projects with the ultimate goal of ensuring all Blackpool residents benefit from the investment. Over the next few months they will work with Government to get the projects shovel-ready for delivery so that work can begin as soon as investment is received.
© 2021 Marketing Lancashire