Blackpool Illuminations to celebrate UK's corona heroes new bring on the light branding for 2020 display
Source: Visit Blackpool
3 July 2020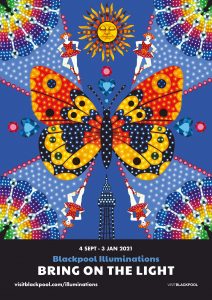 As the nation prepares to salute the NHS on its 72nd birthday this weekend, Blackpool has announced that its annual Blackpool Illuminations display will incorporate a special tribute to the UK's care heroes.
The autumn display, which will be presented under a theme of Bring On The Light, will celebrate the extraordinary efforts of the NHS and other key workers during the coronavirus pandemic.
As part of the tribute section, VisitBlackpool is inviting nominations for key workers to be included in a Corona Heroes display within the six-mile stretch of the Illuminations.
Around 50 of the successful applicants will have illuminated images of themselves displayed within a newly-created section just a stone's throw from The Blackpool Tower.
Last month, it was announced that Blackpool Illuminations will be extended by two months, starting on September 4 and ending on Sunday 3 January, 2021. It will be the first time Blackpool Illuminations have shone over Christmas and New Year.
Cllr Gillian Campbell, Cabinet Member for Tourism & Culture, said: "This year's Blackpool Illuminations give us the perfect opportunity to pay tribute to the remarkable efforts of those who have worked so tirelessly and selflessly during the COVID-19 pandemic.
"Our theme of Bring On The Light for this year's display is intended to celebrate the nation's re-emergence from a period of darkness which has seen the worst public health crisis in a generation.
"The Corona Heroes section will allow us to put just some of our NHS and key workers up in lights."
Cllr Campbell said a further tribute within the Illuminations would be revealed early next month.
Meanwhile, if you would like to nominate your own Corona Hero, please send a short statement (no more than 200 words) saying who, age and why they deserve to be included to: illuminations.competition@blackpool.gov.uk by July 31.
Successful entries will be chosen by the Blackpool Illuminations' creative curator, Laurence Llewelyn-Bowen shortly after, and nominees will be informed before 14 August to seek permission and their chosen image to display in this year's Blackpool Illuminations.
Terms & Conditions:
All winning images will be displayed nightly in the Corona Heroes section of the Blackpool Illuminations from 4 September-3 January 2021.
Images cannot be transferred to another individual
Multiple nominations will not be accepted
No cash alternative
All nominees will be contacted in advance to seek permission to display their image
Any nominees under the age of 18 must have their parent or guardian's permission.
© 2022 Marketing Lancashire