Blackpool prepares to re-open for business Resort launches "Know Before You Go" reassurance campaign
Source: Visit Blackpool
29 June 2020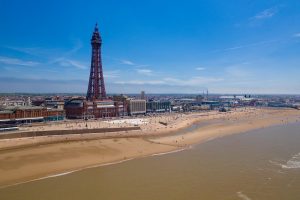 Blackpool is preparing to officially reopen its doors to tourists after more than 100 days of lockdown with a message of reassurance.
Many of the resort's key attractions, hotels, restaurants and bars will be allowed to reopen on Saturday 4 July.
Ahead of that reopening, VisitBlackpool has created a Know Before You Go online platform to give visitors an insight into the range of measures that are being taken to ensure their safety and enjoyment.
One of the resort's big attractions, Blackpool Zoo, was the first to open its doors on Monday 29 June. That will be followed this weekend with the opening of Blackpool Pleasure Beach, part of The Blackpool Tower, the SEA LIFE Centre, Madame Tussauds, piers and amusement centres along the famous Golden Mile.
The Know Before You Go section on the VisitBlackpool.com website provides detailed information on what hotels and attractions are putting in place to meet Government guidelines around hygiene and safe distancing.
These include reduced capacity, allocated time slots, managed queuing areas, enhanced cleaning regimes, and extensive staff training.
All of Blackpool's tourism businesses are being encouraged to sign up to VisitEngland's new We're Good To Goindustry standard which is aimed at giving visitors the confidence that all guidelines are being adhered to. Within hours of it being launched, a number of Blackpool's key attractions had already secured the accreditation.
The Know Before You Go advance guidance includes:
Comprehensive information on what each of the attractions has put in place to keep visitors safe including new ticket booking information
Descriptions of the way in which hotels, bars and restaurants are being remodelled to ensure a COVID-safe environment
Advice on how visitors can enjoy Blackpool's wide open spaces and avoid social distancing problems, as well as reminders to keep the resort's promenade and beaches litter-free
Information on additional safety measures that have been put in place to reassure visitors including a new cashless PayByPhone app that means users can pay for parking across most Council car parks without leaving their vehicle to queue at pay machines.
Cllr Gillian Campbell, Cabinet Member for Tourism & Culture on Blackpool Council, said: "It has been unimaginably difficult to ask our visitors to stay away during the lockdown.
"During that period, our tourism businesses have been busy behind the scenes preparing for the day when they would be able to reopen. That day is almost upon us and we need to give our visitors the confidence to return, knowing that our priority is their health and safety.
"The platform we have created is about giving them all the information they need to be able to plan and enjoy their visit to Blackpool before they set out. Many of our tourism businesses will be operating quite differently to the way they operated pre-pandemic, but there is a common understanding that we will do whatever it takes to give our visitors a safe and enjoyable experience.
"We can't wait to welcome them back."
© 2021 Marketing Lancashire