Blackpool Transport crowned Employer of the Year at Red Rose Awards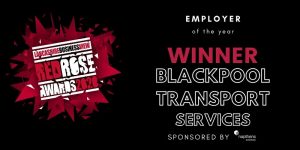 Blackpool Transport, the local operator of buses and trams on the Fylde Coast have won the Employer of the Year award at the Lancashire Business View Red Rose Awards 2020.
The awards ceremony, which took place at the Winter Gardens on Thursday 12th March celebrates the businesses that keep the county alive, the heroes of the Lancashire economy.
The Employer of the Year award is open to private and public sector organisations that have excellent engagement with their team and can demonstrate support and development of their workforce including commitment to skills, flexible working, personal development, workplace wellbeing and teambuilding.
Blackpool Transport employ over 600 members of staff, 40 of which are enrolled on a level 3 or level 5 apprenticeship scheme as part of the organisations vision to upskill and empower its employees.
Jane Cole, Managing Director at Blackpool Transport said "I am so proud of our amazing employees who have all worked so hard and contributed to this fantastic achievement. By listening to our teams to better understand the needs of our customers, we are able to ensure that our staff receive the best training and development opportunities to benefit their role, which in turn is enhancing the customer experience."
Other finalists in the category include DePuy Synthes, Burnley College and Rowan Group amongst others.
© 2021 Marketing Lancashire