Breda Murphy strikes gold at the EVAS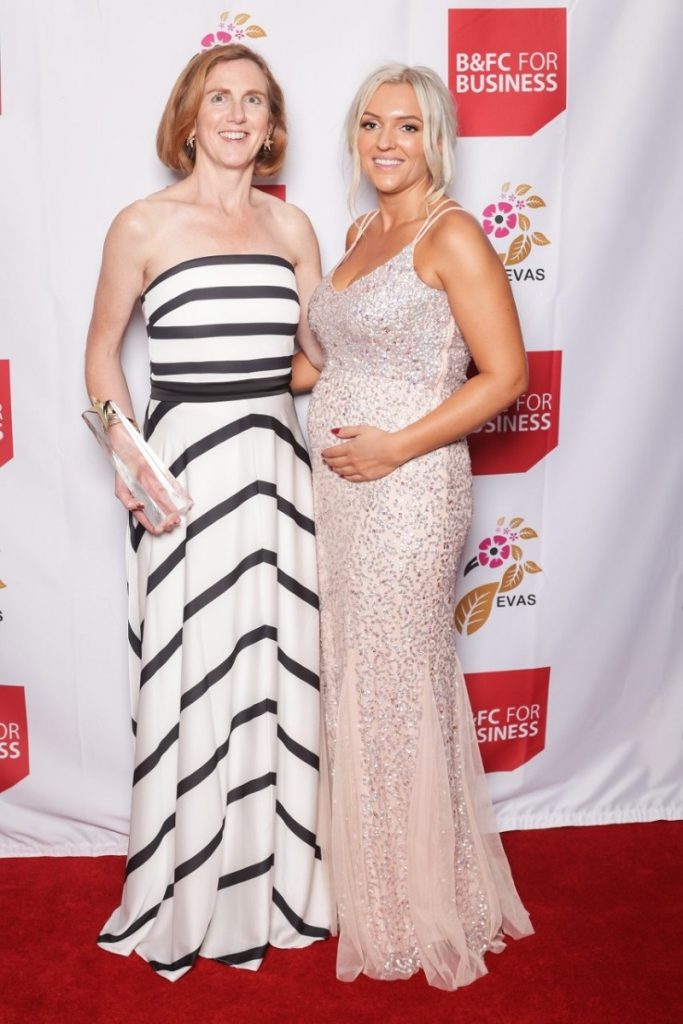 Lancashire businesswoman, Breda Murphy, struck gold after scooping the Hospitality award at the highly prestigious 10th Anniversary Enterprise Vision Awards. The girls were back in town as the awards ceremony which recognises outstanding female entrepreneurship in the North West, sparkled with glitz and glamour.
More than 650 guests turned out to celebrate the EVAs ceremony which took place in the stunning Empress Ballroom at Blackpool Winter Gardens where 19 awards were presented. Hosted by C4's extreme cake maker, Rosie Dummer, the ceremony fizzed with energy, camaraderie and female empowerment making it a fantastic night to remember. Despite the unprecedented hardships wrought by the pandemic, the winners showed the tenacity and innovation to create a successful business.
Women from all sectors were represented, individuals and companies; from laboratories, estate agents and helicopters to pet care, restaurants and styling products.
Breda fought off intense competition from her peers to win the Hospitality Industry category. When the pandemic hit, Breda Murphy of Food by Breda Murphy pivoted her business from a solo culinary establishment to six business entities under one roof. Launching a delicious range of nationwide delivery service of ready meals was a game changer and helped her to reach a wider audience. The new online concept was covered by Jay Rayner in the Guardian's, Sunday Observer 'News Bites' feature, and the UK's top food magazines including the BBCs Good Food magazine and  Delicious magazine.
Previous EVAS Hospitality Industry winner and sponsor of this award in 2021, Kirsty Ridge of Lakeland Inns said: "The EVAS aren't just a pretty glass trophy, they acknowledge the determination and hard work of women in business; women who are often juggling their careers with being mums." The judges commented on how passionate Breda is about her craft and how she has dedicated her life to it,  and despite the pandemic has shown a fine example of pivoting and reaching a wider audience.
To mark a decade of winning women, the EVAS raised over £9,000 for charity which included giving each of the charity finalists a free ticket to attend the awards. The EVAS were a Foodinate event so for every ticket sold a nourishing hot meal would be donated to a person in need.
NatWest has supported the EVAS as the headline sponsor since 2013. Coral Horn, founder of the awards and the networking group, Pink Link, said: "In a time like no other, it was exhilarating to see over 1,150 nominations and 640 entrants. The pandemic wreaked havoc for women in business but these ladies are simply superb and fully deserve to be recognised for their achievements."
Breda remarked, on receiving the award from sponsor and last years winner Kirsty Ridge of Lakeland Inns Group; "It's a great privilege to receive this award, thank you to everyone who voted for me, my team and husband Guy and family for their support. It's been a difficult year for the hospitality industry but keep working hard and believing in yourself".
Bookings being taken for Sunday lunches on 3, 10 & 17 October, 7, 14, 21 & 28 November, 5, 12 & 19 December


Molton Brown Discount Pop-up shop
Fri 29th October lunch tables 12 – 2.30pm
© 2023 Marketing Lancashire