Burnley's education sector is raising aspirations in the borough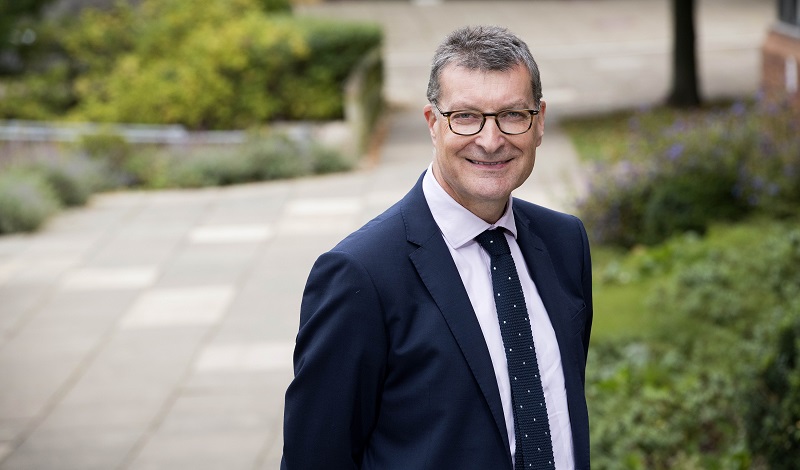 Burnley is at the centre of UCLan's expansion plans, Vice-Chancellor Professor Graham Baldwin has explained;
There are many reasons why, including an engaged business community and the desire to raise aspirations across the borough;
The borough was recently singled out by the Former Secretary of State for Education, Rt Hon Justine Greening, who said: "The work that UCLan is pioneering in Burnley and beyond can provide a template for others to look at how to tackle inequality, fill crucial key worker vacancies in the NHS and other public services and encourage genuine diversity in the organisations that underpin this country."
Burnley is a growing university town, with the University of Central Lancashire (UCLan) committed to having 4,000 students in Burnley by 2025.
Some of the current available qualifications at UCLan Burnley include Accounting and Business, Digital/IT, Law, Nursing, Midwifery, Professional Policing, Forensic Psychology, Sports Coaching and Development, Medical Sciences and a wide range of Degree Apprenticeships.
That's on top of the qualifications already offered by Burnley College and University Courses Burnley, as well as the town's other further education establishments. Burnley College offers England's top sixth-form centre, university courses, Themis apprenticeships and adult learning. Rated by Oftsed as Outstanding, the college also has the second-largest apprenticeship programme in Lancashire.
Professor Graham Baldwin, Vice-Chancellor, UCLan has explained why Burnley is at the centre of the university's expansion plans.
"We work in close partnership with Burnley's employers and communities, so they can influence our curriculum and provide opportunities to our students, as well as benefitting from our knowledge transfer capabilities. Burnley presents an ideal environment for a university – a fantastic learning experience in a supportive and friendly environment, where students can benefit from small class sizes and a high level of support," he said.
Professor Baldwin's comments come as part of the new Invest in Burnley campaign, which showcases some of the many reasons why the borough is a business and education force to be reckoned with.
The borough's thriving education and training sector has also garnered national attention. UCLan recently revealed its plan for social mobility and "levelling up", which is backed by Former Secretary of State for Education, Rt Hon Justine Greening.
She said: "The work that UCLan is pioneering in Burnley and beyond can provide a template for others to look at how to tackle inequality, fill crucial key worker vacancies in the NHS and other public services and encourage genuine diversity in the organisations that underpin this country."
A world of exciting career opportunities
Burnley is an impressive town in which to study, live and work. Graduates and apprentices could make chassis for luxury cars, engines for jets or digital technology used in Oscar-winning films, to name just a few of the exciting career opportunities.
Advanced manufacturing and engineering accounts for 20 per cent of jobs in the town, which also boasts impressive logistics, food manufacturing, fashion and textiles, digital and creative, and leisure, retail and hospitality sectors.
The new 136-bedroom student accommodation at Sandygate opened in autumn 2020 and forms another milestone in the transformation of the wider historic canal-side "On the Banks" project by Burnley Council and Barnfield Investment Properties.
Kate Ingram, Strategic Head of Economy and Growth at Burnley Council, said: "To have delivered this building in such a short time frame and in such difficult circumstances is extraordinary.  It is the first purpose-built student accommodation in the town, and we have deliberately set the bar high and I'm pleased with the results.  We have created a great student experience whilst respecting the historic canal-side setting".
Case Study: UCLan
What Working in collaboration with our strategic partner Burnley Borough Council and alongside the Burnley Bondholders group of influential local business leaders, the university's education strategy for the region is designed to meet the existing and emerging skills and employer needs of Burnley and Pennine Lancashire.
Where UCLan Burnley is situated across two sites – Princess Way (shared with one of our partners, Burnley College) and Victoria Mill, an iconic grade-II listed building located in the historic Weavers' Triangle area. In 2020, our Sandygate Hall accommodation opened, offering high-quality student accommodation comprising 136 en-suite bedrooms within 29 flats, and student hub social areas. In a landmark agreement, Sandygate is owned by Burnley Borough Council, with the university providing the day-to-day services. The council's investment supports our mutual development plans for Burnley to become a thriving university town, to deliver the skills and talent needed to drive productivity.
Size University of Central Lancashire Burnley has a target of 4,000 students by 2025.
 Why Burnley? "Burnley is in a key location and a real exemplar for the public and private sector working collaboratively for the benefit of place-based growth and we're delighted to be part of this. Our aim is to raise the aspirations of and increase the opportunities for all by delivering world-class higher education, which targets the economic demands and skills needs of the town.
"We work in close partnership with Burnley's employers and communities, so they can influence our curriculum and provide opportunities to our students, as well as benefitting from our knowledge transfer capabilities. Burnley presents an ideal environment for a university – a fantastic learning experience in a supportive and friendly environment, where students can benefit from small class sizes and a high level of support."
© 2023 Marketing Lancashire