Changes to Preston Markets during Covid-19 Outbreak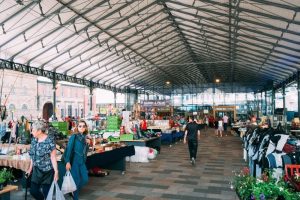 Following recent Government advice regarding Covid-19 there will be a few changes at Preston Markets. The Market Hall will be operating at reduced hours and both the Outdoor and Second-hand markets will cease trading until further notice.
From Tuesday 24 March 2020, the Market Hall at Preston Markets will reduce its opening hours to 8:00am – 3:00pm Monday to Saturday. This earlier closing time will enable the traders to re-stock their stalls and efficiently complete home deliveries to people who are vulnerable or self-isolating.
During these reduced opening hours customers are reminded to adhere to the social distancing rules outlined by the government to keep a minimum of 2 metres between each person, while shopping and queuing.
To help protect members of the public due to the developing situation with Covid-19, the Outdoor and Second-hand Markets at Preston Markets will cease trading from Tuesday 24 March 2020 until further notice.
A joint statement from Councillor Brown, Leader of Preston City Council and Councillor Robert Boswell, Cabinet Member for Environment at Preston City Council:
"Firstly, thank you to everyone who has supported the independent businesses at Preston Markets during this difficult time of uncertainty.
Preston Markets is adapting daily with the information published by the Government to ensure the safety of the traders and customers.
We should all be proud of our Market Traders who have been adapting to the situation, while providing essential food products in a safe and friendly environment. The reduced hours of the Market Hall will enable the traders to provide vital home deliveries of fresh food to people who are currently self-isolating.
When everything returns to normal, I hope the people of Preston recognise the value of Preston Markets and continue to support these independent businesses by shopping local."
© 2020 Marketing Lancashire