Clitheroe gears up for launch of top movie based on Take That songbook
Source: Ribble Valley Borough Council
6 April 2023
Elysian Film Group has today announced that Greatest Days will be released in cinemas across the UK and Ireland on Friday, June 16.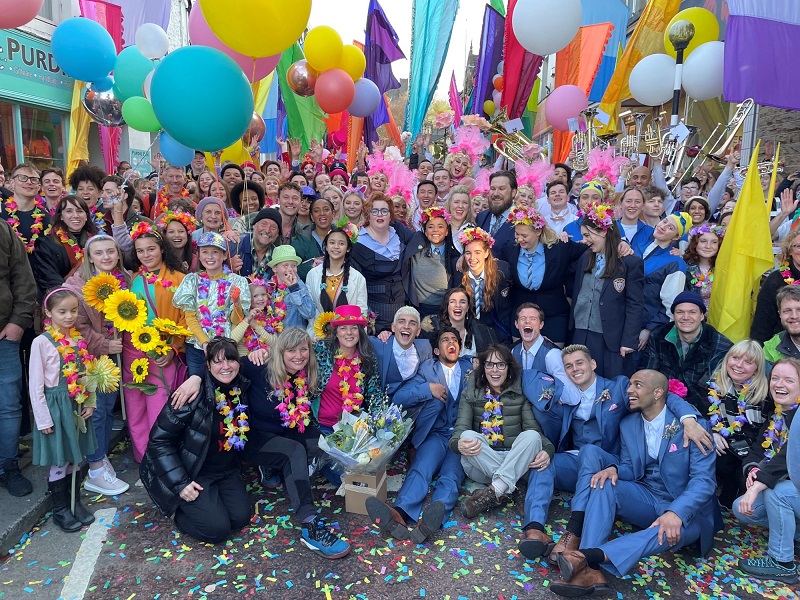 And a host of activity is planned in Clitheroe and Ribble Valley to celebrate the release of Greatest Days and create an enduring legacy from the film for the town.
Described as 'a feelgood universal story of love and friendship', the film introduces five schoolgirls – Rachel, Heather, Zoe, Claire and Debbie – who live in Clitheroe and have the night of their lives at a concert featuring their favourite boyband.
Twenty-five years later their lives have changed in many ways, as they reunite for one more epic show by their beloved band, relight their friendship and discover that maybe their greatest days are ahead of them.
Greatest Days was shot at numerous locations across Clitheroe and culminated in a big song and dance number in the town centre, followed by shoots in London and Athens.
And delighted council bosses today said the film will showcase the charm of Clitheroe and the surrounding countryside to a global audience.
Ribble Valley Borough Council chief executive Marshal Scott said: "I am delighted that a date for Greatest Days has been announced.
"Our officers worked diligently for several years behind-the-scenes with the film's production crew to bring this prestigious project to Clitheroe.
"The film was shot at numerous locations in and around the town and a couple of our officers who attended the cast and crew screening say it is absolutely fantastic.
"It is just the tonic we need as we negotiate the post-pandemic period and we are working with the Greatest Days team to create a lasting legacy from the film in Clitheroe for years to come."
Greatest Days is directed by multi-BAFTA-winning Coky Giedroyc (How to Build a Girl) and written by Tim Firth (The Band, Calendar Girls and Kinky Boots), who is no stranger to Clitheroe – he holidayed in the town as a child and has fond memories of the area.
It stars Aisling Bea, winner of the 2020 BAFTA Television Craft Award for Breakthrough Talent; Alice Lowe, Jayde Adams, Amaka Okafor, Marc Wootton, Lara McDonnell, Jessie Mae Alonso, Nandi Hudson, Carragon Guest and Eliza Dobson.
The film's 'boy band' are Aaron Bryan, Dalvin Cory, Joshua Jung, Mark Samaras and Mervin Noronha.
And the producer is Danny Perkins (Elysian Film Group), along with executive producers Take That's Gary Barlow, Mark Owen and Howard Donald.
Official statistics have revealed that film and TV production spend hit new UK records of £5.64billion in 2021.
Jonny Shelton, production liaison manager for national screen agency Filming in England, added: "The UK's screen industries have bounced back faster than any other industry post-pandemic and we are seeing a truly unprecedented demand for content.
"This content boom is providing unsurpassed opportunity and the English regions are at the forefront of it.
"It is our aim as the national screen agency to maximise and support the production of feature film and high-end TV in the regions to ensure the economic benefits are felt across the UK.
"We are always on the lookout for unique locations and Clitheroe certainly fits the bill for this feelgood movie that will bring the town's charm to a global audience.
"It has been a delight working with Ribble Valley Borough Council staff to bring this prestigious project to Clitheroe."
Ribble Valley Borough Council officers are putting the finishing touches to a series of activities to coincide with the film's release and further details will be announced shortly.
__________________________________________________
© 2023 Marketing Lancashire