Colne welcomes Winter Bloom Light Parade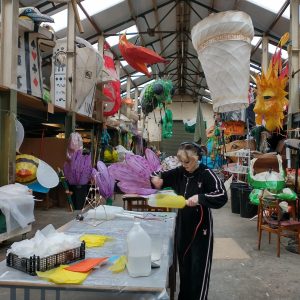 Arts Council and Pendle Borough Council fund a brand new event to the calendar for Colne
Colne sees the return of Handmade Productions to the town to host its reputable Light Parade on Saturday 4th March. This is a collaboration between Colne's Business Improvement District (BID) and Handmade Productions with a host of entertainment, market stalls and crafts during the day from 12pm. Then as day turns to dusk, a beautiful Light Parade will commence from St John's Methodist Church with artwork created by local community groups and organisations: Colne Open Door, West Street and Lord Street Primary Schools, Colne Citadel, Arts For Wellbeing – Pendle, Colne Youth Action Group and Positive Action in the Community (PAC). Pendle YES (Youth Employment Service)
Hub has also taken part in stage management workshops with the Handmade Productions team and Helen Cheung's Encore Dance School students have participated in movement choreography ready for the parade.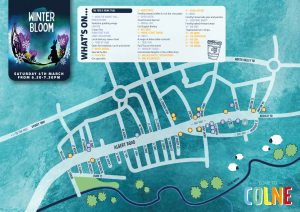 Colne BID's Manager Aneesa McGladdery said: "This event has been in the pipeline for quite a while; we worked with Handmade Productions last year and delivered a small scale 'Whimsical Window Walk and Light Night' using some Covid Recovery funding for town centres. It was such a success that, when I met with Handmade Productions we knew we had to make it bigger and better. We worked on the application together for the Arts Council and managed to successfully secure £20,000 to fund this event. I was so excited when the notification came through to say we were successful, I knew it would be all systems go after this. Handmade Productions have also used the funding to employ an intern from Pendle who has been working at the warehouse over in Hebden Bridge for the past few weeks and will be at the parade.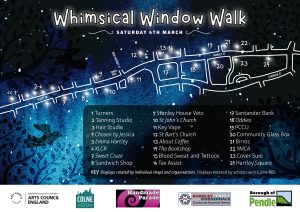 The businesses of the town have really got into the spirit of the event and have decorated their windows again to form the Whimsical Window Walk. We reached out to the local schools again to create artwork so we have a combination of business decorated and school decorated windows. I love that we have worked with schools and community groups to bring this event to life. We simply could not do this event without their support!"
Colne Winter Bloom Light Parade takes place on Saturday 4th March at 6:30pm, don't miss out with entertainment during the day in Colne Town Centre from 12pm
© 2023 Marketing Lancashire