Dewlay secures national retailer for new cheese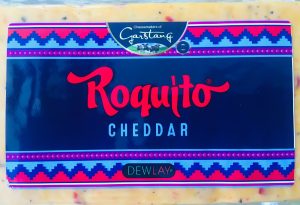 Lancashire based dairy, Dewlay Cheesemakers,  have secured a listing with national retailer Waitrose & Partners for a South American inspired blended cheese called Roquito® Cheddar. This new cheese takes its name from the South American sourced Roquito® Peppers, which are a key ingredient in the cheese. Roquito® Cheddar goes on sale in Waitrose & Partners stores nationwide later this week and is the first major listing for an additive cheese for Dewlay.
Conor Daunt , Commercial Director explains the background to the new product;   "During the latter part of  2018, we set ourselves the task of creating some really high quality blended cheese recipes, and following months of development until the product profile was absolutely perfect, then we were in a position to launch Roquito® Cheddar to the market, the first of a number of product launches planned over the next 12 months".  Conor adds that the cheese is "a wonderfully complex yet balanced cheese flavour with subtle and building heat, making it ideal for melting on a burger ".
© 2018 Marketing Lancashire