Going global: Lancashire International Trade Conference 2021
Some of the biggest names in international trade are gathering with county exporters for the Lancashire International Trade Conference.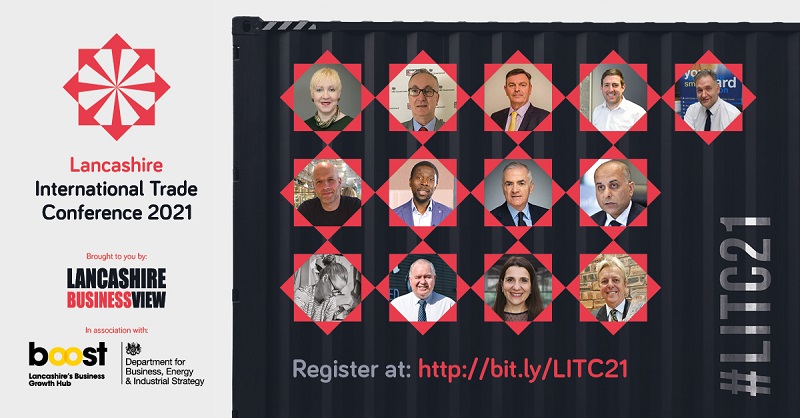 Designed to acknowledge the challenges and highlight opportunities, representatives of  the county's most successful globally-trading businesses and the support organisations behind them are coming together with international guests to inspire and motivate new and seasoned exporters alike.
Part of Lancashire Business View's conference series, Lancashire International Trade Conference is presented in association with Boost, Lancashire's business support hub.
It will take place online on Tuesday 16 March, 10am-12pm, and will feature international, national and regional figures. Registration is free – register here.
The Conference will hear from Richard Burn, Her Majesty's Trade Commissioner to Europe; Marian Sudbury, UK Regions director at the Department for International Trade (DiT); Northern Powerhouse trade envoys in Brazil and the USA; former MEP and trade negotiator Sajjad Karim; and a host of Lancashire exporters, including Queens Award winners, and their advisers.
Through a series of interviews, panel discussions and case studies, delegates will hear first-hand the opportunities and challenges facing Lancashire exporters and those seeking to export.
Experts from trade and representative bodies, and in finance, logistics and productivity, will be on hand to offer practical guidance and show the routes through the post-EU Exit period.
Lynne Gillen, export manager at Department for International Trade, said: "Lancashire has a strong history of export success and through this event we hope to help continue this tradition.
"By showcasing the wide variety of support that is readily available, we hope to show businesses who have never exported before to consider doing so and inspire those who already export to seek out additional opportunities."
Richard Slater, publisher of Lancashire Business View magazine, said: "International trade plays a vital role in the county's economy.
"Current difficulties mustn't limit our ambitions and this Conference will show that there while there are significant challenges, opportunities are there to be grabbed.
"But it's hard on your own so we've assembled guests who can offer advice from the best possible positions, and meet the businesses who are already on their international trade journeys.
"Their stories are vital – we learn so much from our neighbour businesses. We can learn from their mistakes and their successes."
Businesses can tune in for the conference via Zoom. Attendees to the event will also be able to network once the feature presentations have concluded. Register your place here.
Confirmed speakers so far include:
Lynne Gillen, export manager at Department for International Trade
Richard Burn, Her Majesty's Trade Commissioner for Europe
Marian Sudbury, director of UK regions, Department for International Trade
Sajjad Karim, former Member of the European Parliament
Carolina Silva, business manager for the Northern Powerhouse: Latin America and the Caribbean
Hannah Webb, overseas representative for the Northern Powerhouse: North America
Onelia Angelosanto, global trade associate partner at EY
Paul Walters, head of international trade at North and Western Lancashire Chamber of Commerce
John Lucy, head of international transport at Road Haulage Association
Philip Leigh, innovation and growth specialist at RTC North
David Lenehan, managing director of Northern Industrial
John Carr, owner of Cheese Matters
Nick Dykins, managing director of Slingco
Paul May, director of sales and marketing at Universal Smart Cards
Hakeem Adebiyi, global category director at Vernacare
Tony Grimshaw, director of What More
Melissa Anglesea, managing director of Suzi Wong Creations
The conference is to be hosted by Lancashire Business View magazine in support of its annual Export Report. The event is in association with Boost Business Lancashire.
© 2023 Marketing Lancashire