Hairy Biker Si King joins expert panel at inspirational TASTE Lancashire conference
Hospitality & Tourism representatives 'celebrated and debated' the challenges and opportunities ahead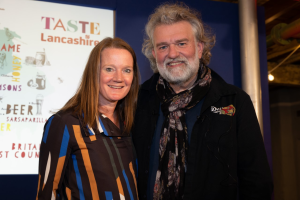 Marketing Lancashire gathered over 100 representatives from Lancashire's food, hospitality and tourism industry gathered at Holmes Mill, Clitheroe this week to talk about the challenges facing businesses and to inspire debate about the future.
The conference was a follow-up to the hugely successful events held in 2017 and 2019. It sets out to celebrate, inform and inspire healthy debate amongst the county's successful and growing food and drink sector; with particular emphasis on boosting the county's millions of visitors with more gourmet travellers and food lovers.
Hairy Biker, Si King whose Lancashire tour in 2021 for "Hairy Bikers Go North' catapulted to fame several Lancashire food producers, sat on one of the expert panels which were chaired by BBC Radio 4's Caz Graham also included Oli Martin, Chef, and figures from Goosnargh Gin, the Cartford Inn and Bowland & Bay.
Paul Hargreaves, CEO of wholesaler Cotswold Fayre and renowned business author delivered the keynote speech, with speakers from VisitBritain/VisitEngland sharing insights into world perceptions of British food & drink and best practice when hosting international visitors. 
The event, which was funded by the Lancashire County Council Rural Recovery Fund showcased some of the county's finest producers so that  delegates could taste and learn more about their products, with a view to establishing new relationships and encouraging new contracts and supplier agreements. 
Rachel McQueen, chief executive of Marketing Lancashire, said: "This was a packed event illustrating some of our amazing producer's food, creativity and innovation which makes the county so special and puts us firmly on the gastronomic map.
"The speakers debated the challenges, what support is out there for producers, upcoming food trends and offered practical advice and inspiration to guests."
Experts from the Department for International Trade, Lancaster University, National Farmers' Union and Booths also contributed to a wide-ranging discussion on hot topics related to food & drink; from farm to fork production, the changing tastes and expectations of consumers, being a better business and how, in these uncertain times, we can market more Lancashire produce overseas.  
Celia Gaze, Founder & CEO of the Wellbeing Farm, a panellist at the event, said: "I was so proud to be a panellist and to call Lancashire home at such an important showcase for the food and drink and hospitality industry.
"The event was full of inspiration, great speakers, opportunities and optimism! The networking, collaboration, ideas, future trends and the amazing food and drink provided at Holmes Mill made for a truly brilliant event."
© 2023 Marketing Lancashire