Lancashire at heart of Northern Powerhouse event at MIPIM
Source: Lancashire Enterprise Partnership
15 March 2019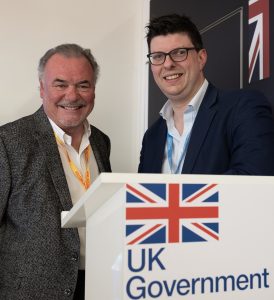 LEP Chair David Taylor speaks at UK Government Pavilion panel as part of week-long Lancashire trade mission
The Northern Powerhouse was the focus of a combined Northern LEPs discussion panel today at the UK Government Pavilion at MIPIM International, the property and investment conference held annually in Cannes, France.
Over 25,000 delegates attend the three-day expo including investors, developers, property agents and policy makers from across the globe.
David Taylor, Chair of the Lancashire Enterprise Partnership (LEP) participated in the Powerhouse panel, which was chaired by Henri Murison, Chair of the Northern Powerhouse Partnership. Mr Taylor was joined by representatives from other regions, counties and conurbations in the government-funded 'council of the North', the NP11.
Some of the key themes covered by the session included infrastructure and transport links, focussing on unlocking the collective benefits of bringing Northern cities closer together through improved road and rail connections.
David Taylor, Chair of the Lancashire LEP, said: "Today's Powerhouse panel was primarily focussed on connectivity, collaboration and the North speaking with one voice.
"In particular I wanted to explore how we ensure that the £70 billion transport plan for the Northern Powerhouse, plus a further £50 billion earmarked for transport within city and economic regions including Lancashire up to 2050, enables growth of within key Lancashire sectors such as energy, aerospace and advanced manufacturing."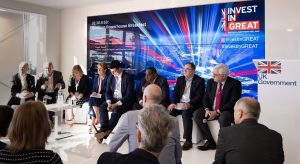 In addition to taking part in the Northern Powerhouse panel, the LEP exhibited at the MIPIM expo and highlighted a range of large-scale investment opportunities and major schemes coming forward.
These included the Preston, South Ribble and Lancashire City Deal, the county-wide Lancashire Advanced Manufacturing Energy Cluster (LAMEC), the proposed Advanced Manufacturing Research Centre (AMRC) at Samlesbury, UCLan's Engineering Innovation Centre (EIC) in Preston, Lancaster University's Health Innovation Campus (HIC) and the proposals for Morecambe's Eden North development.
Lancashire also held a special session in partnership with Cheshire & Warrington LEP – which discussed maritime and waterfront economies.
A series of networking events were also arranged by the Lancashire delegation which were sponsored by some of Lancashire's leading businesses including Conlon Construction, Anderton Gables, the Eric Wright Group and Shoosmiths.
These included a VIP dinner featuring a Lancashire-inspired menu prepared by Hipping Hall head chef (and BBC Masterchef the Professionals finalist) Oli Martin, and a Lancashire Ambassadors' brunch event attended by the county's first Lancashire Ambassador Andrew Flintoff.
Jonathan Shaw, Managing Director of Anderton Gables said: "Anderton Gables takes MIPIM seriously which is why we're prepared to invest not just for the business itself, but also to be an ambassador for region. Having an established base in Preston we have handpicked the best local talent which has allowed us to grow out further into the North. However we've you've never lost sight of how valuable it is to be seen as homegrown from Lancashire."
Chief Executive of Marketing Lancashire Rachel McQueen, who organised Lancashire's MIPIM trade mission, said: "It's been a fantastic few days and we have enjoyed a higher profile at MIPIM this year than ever before. The response to all our events has been very positive, and all of our partners and sponsors have been superb advocates for what Lancashire has to offer economically, socially and culturally.
"From Oli Martin's delicious Lancashire fayre through to David Taylor's participation on the NP11 panel, and from Andrew Flintoff's passionate rallying cry for business leaders to get behind the county through to our Northern Powerhouse reception event, the Red Rose has been making a big impression in Cannes this week."
Lancashire Ambassador Andrew Flintoff commented: "It was a great honour to be invited to a major investment event like MIPIM to promote all that is great about Lancashire to investors, developers and policy makers from around the world. I was also keen to encourage other Lancastrians who were in Cannes this week to join me and act as advocates for the county through their own business and personal networks as together we can all help put Lancashire on the map globally ."
With thanks to the following who helped Marketing Lancashire fly the flag for Lancashire produce at MIPIM events :
Batch Brew; Beechs Chocolates; Bowland Brewery; Dewlay Cheese; Farmhouse Biscuits; Fiddlers Crisps; Heritage Kitchen; J Atkinson & Co.
and to William Firth Woodcraft for handcrafted boards, made in Lancashire.
© 2018 Marketing Lancashire