#LancashireDay campaign reaches out to 173 million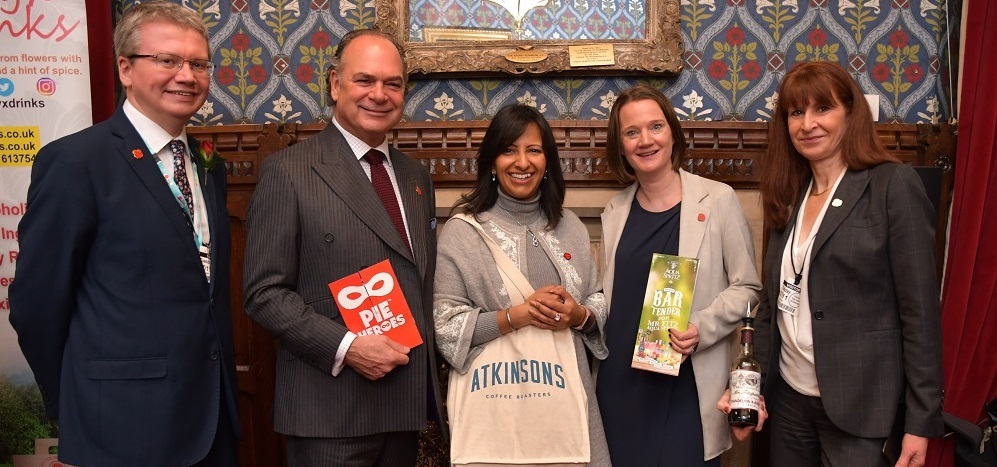 A rally cry was put out and Lancashire answered. Marketing Lancashire's annual campaign to get Lancashire Day trending on social media broke records with a potential reach of more than 173 million – a huge 133 per cent rise on the 74 million achieved in 2017. Marketing Lancashire social media activity on the day itself achieved over half a million impressions.
Lancastrians from across Europe as well Canada, Indonesia, Argentina, Japan and America flooded social media with their own pictures, memories and well wishes for Lancashire Day – the day in 1295 when the first elected representatives from Lancashire were called to Westminster by King Edward I. The digital campaign, started by the destination management organisation in 2015, aims to raise the profile of the county and Lancashire Day across the globe.
The news comes after Marketing Lancashire's special Lancashire Day event at the House of Commons, hosted by Andrew Stephenson MP, to promote the county as a leading destination for business and leisure. More than a dozen of the county's tastiest producers filled the Jubilee Room with a bounty of Lancashire food and drink, representing Marketing Lancashire's Taste Lancashire campaign to establish the county as a must-visit destination for food-lovers.
Ministers including Defense Secretary Gavin Williamson, Treasury Secretary Liz Truss and Northern Powerhouse Minister Jake Berry sampled award winning gins, chocolates, coffee, drinks made from hibiscus flowers, pies and Bowland snails along with a selection of other Lancastrian delicacies. Lancashire's renowned hospitality created a positive platform for also discussing some of the latest developments and opportunities for business in the county.
They were joined by Members of Parliament, Lords and Ladies and leading Lancastrians based in the capital including Johnny Ball, president of The Association of Lancastrians in London, and Ranvir Singh, Lancashire's newest official ambassador. Buyers from leading retailers including Harrods were also on hand to sample a taste of Lancashire.
Host of the event, Andrew Stephenson MP, said: "I was pleased to be asked to host Marketing Lancashire's Lancashire Day event at the House of Commons and delighted by the support shown by fellow MPs and Ministers, from Lancashire and further afield. Their presence helped mark this special day.
"Word of the quality of the Taste Lancashire food and drink on offer from our excellent local producers quickly spread through Parliament and made for a lively, packed event with MPs queueing to get in. I couldn't have asked for a better showcase for Lancashire on Lancashire Day and thank all those involved in delivering a memorable and impressive day."
Rachel McQueen, Chief Executive of Marketing Lancashire, said: "There was an incredible buzz in the room, a great turn out and everyone involved had a fantastic time celebrating Lancashire Day.
"We are so proud to have been able to fly the flag for Lancashire at the House of Commons on this very special day. We want everyone to know what a superb offer Lancashire has and what a fantastic place it is for business and leisure. We will continue to work hard and keep banging the drum for Lancashire."
Paul Williams, founder of Mawdesley's Choc Amor, said: "I had such a brilliant time at the House of Commons, I never stopped talking about what a fantastic place Lancashire is. I'm always so proud to represent the county.
"I've already had orders coming in from the capital after the event which is something I could never have dreamed of. I'm so thrilled to have been a part of this wonderful day."
Ian Steel, of Atkinsons in Lancaster, said: "What a way to celebrate Lancashire Day! Not only did I share it with some of the great and the good in Parliament and Lancastrian Ranvir Singh, I also got to champion Lancashire with an unrivalled bunch of local producers all passionate about what they do."
Harry Camillari from Black Powder Gin in Weeton said: "It's wonderful to see firsthand the reaction to our gins at the Lancashire Day event, getting such positive feedback from Ministers and MPs, is something we'll never forget."
On Lancashire Day Marketing Lancashire announced Preston-born television presenter and journalist Ranvir Singh as the county's newest Lancashire Ambassador and she was officially welcomed at the House of Commons by Rachel McQueen, Tony Attard Chair of the Board of Marketing Lancashire, County Councillor Michael Green and Angie Ridgwell Chief Executive of Lancashire County Council.
The first Lancashire Ambassador Andrew Flintoff was announced in October. Since then he has worked with Marketing Lancashire on a new short film; a rousing call to action to encourage business leaders across the county to work together to increase the national and international profile of Lancashire.  This was also released to the public on Lancashire Day.
Marketing Lancashire's Lancashire Day at the House of Commons was supported by Virgin Trains and Coolkit of Burnley, who ensured that all the produce arrived in London in perfect condition.
© 2021 Marketing Lancashire