Lancashire takes upbeat innovation, skills and productivity message to MIPIM UK
Source: Lancashire Enterprise Partnership
19 October 2018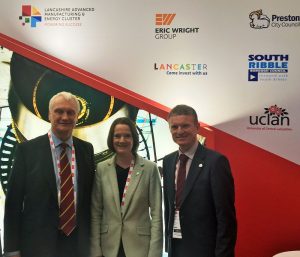 Partners unite under 'We Are Lancashire' banner to promote inward investment opportunities across the county
A range of private and public sector partners from Lancashire came together this week in London to promote inward investment opportunities across the county to potential investors, developers and employers.
Led by the Lancashire Enterprise Partnership (LEP), and managed by Marketing Lancashire, the "We Are Lancashire" partnership exhibited at the two-day MIPIM conference and property exhibition at London's Olympia.
Described as "the leading property summit for all key stakeholders in UK real estate", MIPIM UK regularly attracts over 3, 000 delegates from 45 countries. These include investment specialists, local authorities, agents, occupiers, architects, planners and government agencies.
The delegation included Lancashire County Council alongside colleagues from Blackburn with Darwen, Blackpool, Lancaster, Burnley, Chorley, Preston and South Ribble. Eric Wright Group and the University of Central Lancashire (UCLan) were also part of the MIPIM delegation.
Some of the main themes highlighted included innovation to drive economic growth, the development of a high-level skills base, and the latest inward investment opportunities across Lancashire.
Key assets linked to these themes included Lancaster University's £41m Health Innovation Campus (HIC), set to drive growth within advanced medical technologies and digital health, and UCLan's £30m Engineering Innovation Centre (EIC) in Preston – a state-of-the-art facility which will create an integrated space for advanced manufacturing and engineering teaching, research and knowledge exchange with business.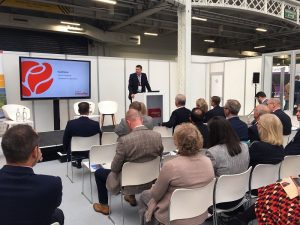 Lancashire's strengths within the energy sector, and the Energy HQ facility at the Blackpool Airport Enterprise Zone, was also marketed directly to MIPIM visitors.
The role of the Blackpool Airport Enterprise Zone as part of the wider Lancashire Advanced Manufacturing and Energy Cluster (LAMEC) was also central to the Lancashire pitch. The LAMEC is made up of Lancashire's four Enterprise Zone sites, the largest number of Enterprise Zones awarded to a single Local Enterprise Partnership.
Situated at Samlesbury, Warton, Blackpool Airport and Hillhouse near Fleetwood, this cluster approach provides a strong industrial focus in world-class development locations, building on Lancashire's national and international strengths in the aerospace, advanced engineering and manufacturing, energy and chemicals industries.
More details were also revealed about the proposed Advanced Manufacturing Research Centre (AMRC) at the Samlesbury Aerospace Enterprise Zone.
The initiative is being developed in partnership with the University of Sheffield and was announced in 2017 as part of the government's Growth Deal fund for Lancashire.
The AMRC will work with local, national and international manufacturers to introduce advanced techniques, technologies and processes into their operations to drive innovation and productivity in Lancashire's business base.
Based near to BAE Systems, the North West facility of the AMRC will integrate fully with the world-class aerospace activity already present in the area.
It will also add significant value to the county's other thriving advanced manufacturing, automotive and energy sectors, ensuring Lancashire can capitalise on new and emerging market opportunities.
To reinforce Lancashire's position as one of the UK's leading innovation and investment hotspots, the Lancashire delegation hosted two special seminars.
On Wednesday a session was held entitled Innovation in Lancashire, which was focussed on Lancashire's innovation assets and how they will drive existing and future industrial strengths.
Speakers included Melissa Conlon, Commercial Director, AMRC North West, Andy Walker, Head of Business Growth for Lancashire County Council, Peter Thomas from the University of Central Lancashire and Nick King from Lancaster University.
On Thursday a second panel discussed Investing in Lancashire, looking at the potential of Lancashire's strategic employment sites and the next phase of Enterprise Zone development.
Speakers included Stephen Young, Executive Director of Growth for Lancashire County Council, Nick Gerrard, Growth & Prosperity Programme Director for Blackpool Council, and Denise Park, Deputy Chief Executive of Blackburn with Darwen Council. They were joined by private sector partners including Simon Towers, Group Managing Director, NPL Developments and Karen Hirst, Director, Eric Wright Group.
Andy Walker, Head of Business Growth for Lancashire County Council, said of the two-day MIPIM expo:
"Lancashire is speaking with one voice about our economic potential. Inward investment opportunities continue to be very well received by investors, developers and property agents at events like MIPIM, reflecting the government's encouragement for regions to work more closely together, especially with regards to major projects being funded through programmes like the Growth Deal.
"This year we have been very focused on Lancashire's capacity to drive growth through innovation, highlighting a number of major assets which are now coming out of the ground such as Lancaster's HIC and UCLan's EIC. These will both offer world-class resources and technology that will help put Lancashire at the forefront of fast-growing markets such as health and advanced manufacturing.
"The LAMEC, combining the strengths of our four Enterprise Zone sites, and the proposed AMRC facility at Samlesbury, will help embed innovation across all of our priority industrial sectors. That's a powerful message for both property developers looking to invest, and employers looking to expand their operations, and it's one that has gone down very well at MIPIM this week."
© 2023 Marketing Lancashire