Local business owner Kevin Berkins wins yet more awards for his sausages at the prestigious Butcher's Guild Awards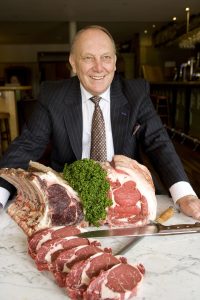 Success has struck again for Lancashire's Master Butcher Kevin Berkins this week in a celebration of National Sausage Week. Kevin won big at the Butchers Guild Hall in London; earning the top spot for his 'Old English Breakfast Pork' sausage in the 'Traditional Sausage' category. The award was presented by celebrity chef Lesley Waters – who is regularly featured in the This Morning kitchen.
Kevin is no stranger to national recognition for his work, winning accolades for his sausages for many decades. He credits his success to over 50 years of using quality ingredients to hone his craft and becoming a Master Butcher and member of the Master Chef Association in the process. Commenting on the award Kevin said: 'this award is testament to a lifetime of working with food. I am proud we've been recognised in this way. Many of our guests and customers at The Fence Gate and The Eagle often remark that our sausages are the best in the country. I am happy they've been found to be correct!'
Those eager to taste Kevin's award-winning sausages can purchase them at Berkins Deli in Barrow or enjoy them as part of his carefully curated menus of the brasseries at The Eagle in Barrow or The Fence Gate in Pendle. Guests staying at The Fence Gate Lodge in Pendle are treated to his sausages as part of the notoriously hearty breakfasts. Run by a father-daughter team, Kevin and Keeley, have been working together for the last decade and a half to cement their reputation for excellent food and drink. As well as being a Master Butcher & Master Chef Kevin is also a Gin Master and The Fence Gate has a Guinness World Record for the most varieties of gins (623) available to try in the comfort of the luxurious countryside bar.
© 2020 Marketing Lancashire