Lancashire's new High Sheriff takes office
Source: Lancashire County Council
17 April 2019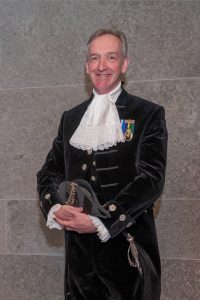 The new High Sheriff of Lancashire has been officially sworn in at a historic ceremony in County Hall, Preston.
The Honourable Ralph C Assheton TD DL started his year in office at the installation on Friday 5 April. He takes over from Anthony Attard OBE DL.
Each year HM The Queen personally appoints the High Sheriff of Lancashire – a role dating back over 1,000 years.
The role is carried out on a voluntary basis. The High Sheriff does not receive any salary or expenses.
The High Sheriff's role is to 'protect and assist in upholding the dignity and well-being of Her Majesty's Judges and to project the principles of encouraging responsible citizenship and respect for the diversity of the community which lie at the heart of our constitution'.
The new High Sheriff, Mr. Assheton, said: "To become High Sheriff of Lancashire is a great honour for me, especially as my great-grandfather, Ralph Cockayne Assheton was High Sheriff of Lancashire exactly 100 years ago, in 1919. I hope that in some way I can live up to his example of public service, though I have some way to go, for he was also the longest serving county councillor from 1892 to 1949."
"In my year of responsibility I aim to work closely with the police and the judiciary, to foster better understanding of the pressures they face in these times of ever tightening financial pressure."
© 2018 Marketing Lancashire