Napthens solicitor completes gruelling six-day challenge for Youth Zone Darwen
Local solicitor Oliver McCann of Napthens Solicitors has presented a cheque of £3000 to local young people's charity Youth Zone Darwen after completing a gruelling 6 day challenge to walk across Hadrian's Wall.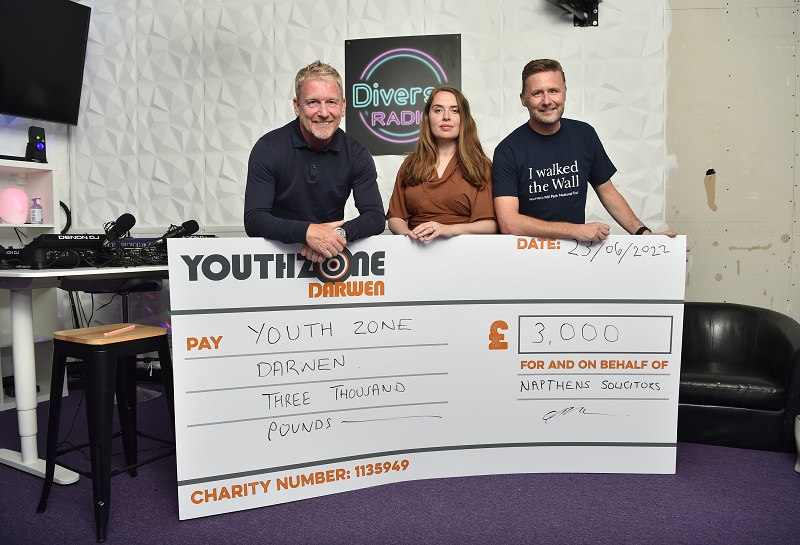 The 90 mile walk which stretched coast to coast across northern England saw Oliver along with 3 friends set off from Wallsend, Newcastle upon Tyne in the east and finish in Bowness-on-Solway in Cumbria on the west coast, achieving an elevation of 300 metres by day 3 was in aid of the Napthens Foundation, Youth Zone at Darwen.
Oliver, on behalf of Napthens, has supported the Youth Zone over the last 10 years having done a number of fundraising initiatives in aid of the Youth Zone, showing his passion and commitment to supporting young people of the town.
Wayne Wild trustie of Blackburn Youth Zone and Youth Zone Darwen said:
"We are so grateful to Oliver for taking on this challenge to raise vital funds for Blackburn Youth Zone and the amount raised single-handedly is astonishing. I hope Oliver's challenge will inspire others to take on a challenge and help us in supporting thousands of young people across the borough. A big thank you to Oliver for all his hard work."
Oliver McCann from Napthens Solicitors said:
"My friends and I have talked about this for a few years and wanted to do this to raise funds for different charities " said Oli. "For me, the opportunity to walk across Northern England along this historical wall dating back 1900 years to AD122 with its wonderful scenery, whilst challenging myself physically (and probably mentally) but in good company with 3 friends was a wonderful, but challenging experience which I hoped would raise much needed funds for my chosen causes. It's not usually the distance that gets you, but the wear and tear on the feet and legs. Fortunately I got through it without any injury, just some tiredness. Reaching the end point at Wallsend was a great feeling knowing that I had raised over £6000 with 50% going to the Youth Zone and the rest to Napthens Foundation. Collectively myself and my friends raised over £10,500 for various causes. I want to say a massive thank you to everyone who supported me and kindly donated during challenging financial times."
© 2022 Marketing Lancashire