NEW £7M* development at Ribby Hall Village given the green light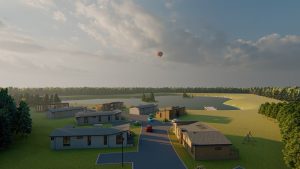 Ribby Hall Village has won planning approval for an ambitious NEW project which will make it one of the most sought-after holiday destinations in the north of England.
The exciting, 22-acre Reeds Bay development will include twenty prestigious NEW holiday homes for purchase, two luxury holiday apartments and a water sports centre, set alongside a huge lake.
This announcement comes as the award-winning Holiday Village celebrates its 25th birthday, underlining the on-going success of the business and the confidence its owners have, to continue investing and improving the already five-star facilities.
"This is a significant step for Ribby Hall Village and everyone here is very excited about the latest development," says Chief Executive, Paul Harrison. "We find ourselves ready and eager to expand our business further and we are confident that the Reeds Bay development will complement our existing operation perfectly."
Reeds Bay will be built on newly acquired land adjacent to the south west corner of Ribby Hall Village.  Skirted by mature trees and a NEW five acre lake, Reeds Bay will represent the jewel in the crown for The Village.
The twenty NEW holiday homes will be built by the UK's leading manufacturers, to bespoke designs, and will be fitted to the highest specifications available in the North of England.  Each interior will be uniquely designed to offer the ultimate in style and luxurious comfort, and The Village expects to sell many off-plan.
The lake at Reeds Bay will be used for sailing, canoeing and other water-based activities, including outdoor swimming as part of triathlon events. These activities will be open to home owners, members of the Health Club, and residents across The Village.
Subject to planning approval, two contemporary, elevated waterside apartments are also to be built above a water sports centre and will add a NEW dimension to The Village's portfolio of holiday rentals and is expected to be in high demand.
Commenting further on the development, Paul Harrison said: "This is the most exciting and ambitious new project we have embarked upon for many years. It's entirely fitting that we will begin an additional phase of construction almost exactly 25 years after building the first ever holiday cottages here.
"The success of this business is due to the enthusiasm and dedication of the people who work here, our guests and all the local people who support our many facilities. We're delighted to be able to improve the business even further for the benefit and enjoyment of everyone involved."
Work is expected to begin next week, when local contractors will begin digging out the lake and preparing the site for the first holiday homes. Further announcements will be made when clearer timings have been confirmed.
© 2021 Marketing Lancashire