New Soapbox Race event in Colne expected to draw crowds of 20,000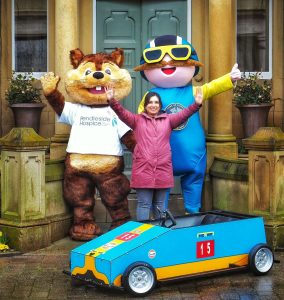 A fun-packed soapbox race is coming to Colne this summer! Colne Business Improvement District (BID) is backing The Super Soapbox Challenge, expected to draw crowds of around 20,000 people, which will take place on Father's Day, Sunday June 18th. The event will start outside the Town Hall where a 4-metre-high start ramp will be erected to help competitors get a flying start down Albert Road.
The Colne BID Super Soapbox Challenge will be staged by a company which has already achieved major success with similar events in places such as York, Bradford and Barrow-in-Furness, in Cumbria, where Eddie "The Eagle" Edwards was among the competitors.
Andrew Pearson, spokesman for The Super Soapbox Challenge Company, said: "It will be a fantastic, free community event for Colne which we predict will bring 20,000 people into the town for a fun-packed, family day out. Our post-event research on similar soapbox race-days we've organised elsewhere suggests that between 20-25 per cent of attendees will travel from outside of the town so it's a great way to showcase Colne to new visitors too. Initial response from the business community has been very positive with many of the main sponsorship packages being reserved by local organisations like Nelson College, Safran Nacelles and Burnley College, but we're still seeking further sponsorship at present."
While teams entering can raise money for their own charities, the event's official charity is Pendleside Hospice which everyone is encouraged to support. Businesses can enter corporate teams to build and race their carts as well as non-corporate groups. Over and above trophies for the top racers, entrants can compete for awards such as "Most Innovative Cart Design", "Best Turned-out Soapbox crew" and even "Joker of the Day!"
BID Manager Aneesa McGladdery said: "These soapbox events are great for our shops and businesses, bringing in lots of families for a fun-packed day-out and leaving a lasting feelgood impression on visitors from further afield. Experience elsewhere suggests it will be great for our town centre and is likely to become an annual event. The take-up of nearly thirty carts already is fantastic and we're still expecting more entries. One local company alone, Senior Aerospace Weston, has entered six different teams. I'd also like to thank the students at Burnley College for making our cart for the BID in addition to their own."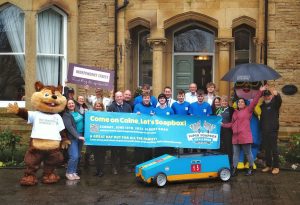 In addition to the racing, there will be a funfair and live music plus an artisan market organised by Independent Street Events with many stalls selling food, drink, arts and crafts. Owner, Lisa Cowley said: "Myself and the market traders are incredibly excited to be part of this amazing event in Colne. This will be our third time in Colne after being part of the Light Festival in 2022 and being a co-organiser of the Food and Drink Festival. It's going to be a great day!"
The action starts at 11am with the first cart being released from the top of the ramp by a yet-to-be-announced celebrity and continues throughout the day until around 5pm when prizegiving will take place on the stage followed by live music. Big screens at either end of the course will enable everyone to witness this spectacular, free community event.
© 2023 Marketing Lancashire