Partingtons win big at the NWEEG Awards 2021

The Partington's team attended the 2021 NWEEG (North West Employee Engagement Group) Awards at The Monastery in Manchester this November. NWEEG's vision is to encourage and boost support for businesses across the North West of England to effectively engage with their staff, their customers and their stakeholders on a daily basis. Their purpose is simply to make the North West of England the best place to work.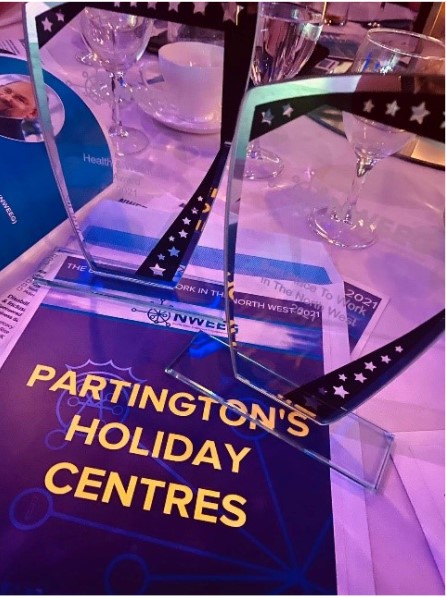 Partington's Holiday Parks won two huge awards in the Health and Well-being category and The Best Place to Work in the North West!  
This was such an achievement and honour for the Partington's team after such a challenging two years in the Hospitality sector. Since lockdown first impacted us in March 2020 Partington's senior management set the bar high for team member well-being, by making this their core priority. All 250 team members received a weekly catch up call from their line manager to check in on their mental health and wellbeing with free counseling sessions available to all team members should they need a confidential chat. 
Keeping all our team members healthy and engaged was our top priority during the pandemic. Team members were encouraged to join our team member Facebook group with engaging content for everyone to take part in.  
To be recognised for our Health and Well-being efforts at The NWEEG Awards and as the Best Place to Work in The North West was such an achievement for us, as we always say it's the people that make Partington's! 
© 2023 Marketing Lancashire