Prestige Beds is new Patron of Blackburn & Darwen Youth Zone
Prestige Beds, a third-generation family-owned company with over 60 years experience supporting customers across the region, has joined the Blackburn & Darwen Youth Zone network as a business Patron.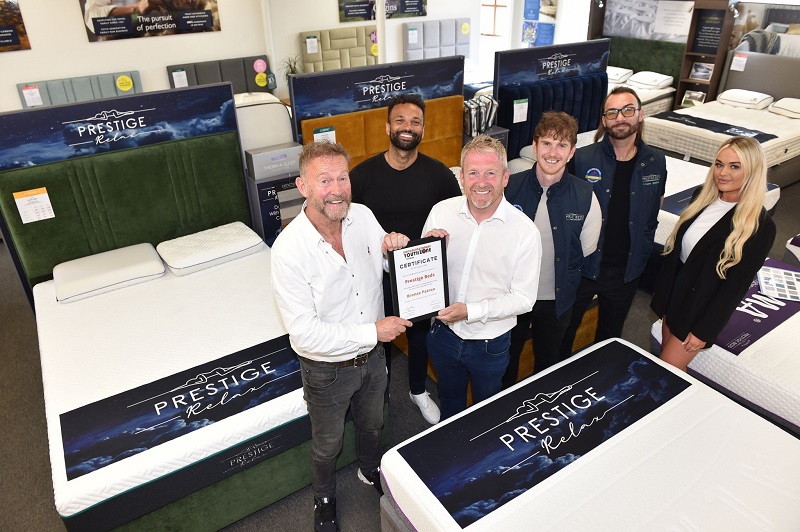 James Dunne from Prestige Beds said of their donation and new partnership with Blackburn & Darwen Youth Zone:
"We are proud to support the Blackburn & Darwen Youth Zone and its efforts to empower young people in our community. We believe that investing in young people is the best way to ensure a bright future for everyone, and we are excited to be part of this important work."
Blackburn & Darwen Youth Zone is a charity providing a safe and engaging space for the young people of Blackburn and Darwen.
They offer a wide range of activities, programmes and support services to enable young people to reach their full potential.
Wayne Wild, Trustee of Blackburn & Darwen Youth Zone, said:
"We are thrilled to welcome Prestige Beds as a Patron of Blackburn & Darwen Youth Zone. Their commitment to the community and their support for our work will enable us to continue providing the highest quality services for local young people."
Blackburn & Darwen Youth Zone has over 4,000 members and, over the last decade, has become an essential resource for children and young people across the Blackburn and Darwen borough. The organisation provides free membership, free access to all activities and also free hot meals for every young person using their centres. Youth Zone's membership mirrors the diversity of the local borough and works hard to ensure that all voices are heard. They work closely with all statutory and non-statutory services to ensure that any safeguarding concerns are swiftly addressed, and young people are supported according to their needs.
Youth Zone also provides much-needed support for young people struggling to find their way into education, employment or training. Their Youth Employability Hub has worked with over 400 young people over the last twelve months and is growing in influence and impact since its introduction in 2021. Volunteering is a highly valued aspect of the Youth Zone service with over 1,100 volunteering hours every month being donated by local people in support of
many programmes and activities.
Youth Zone would be delighted to hear from the business community with shared ambitions to support local young people. For more information or to book a visit, please contact:
Melanie Thomas
Blackburn & Darwen Youth Zone
Address: Jubilee St, Blackburn BB1 1EP
Phone: 01254 292000
Email: [email protected]
© 2023 Marketing Lancashire