Preston monument receives Historic England listed status
Source: Preston City Council
7 August 2018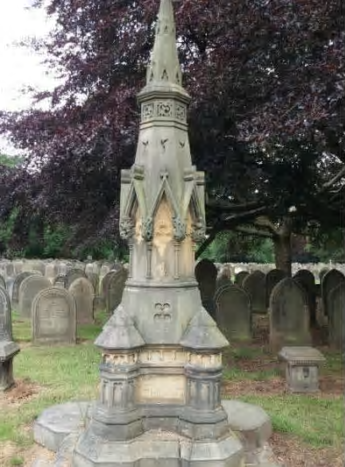 The public have nominated hundreds of memorials in response to a call-out by Historic England to find the country's secret and lesser-known murals, statues and tributes. Amongst the public nominations was a memorial in Preston to commemorate the Teetotal Movement.
The search was carried out as part of Historic England's Immortalised season, which aims to help people explore the country's memorial landscape – who is reflected, who is missing, and why.
Monuments and statues are under increasing scrutiny as debates grow about why there are so few statues of women and people of colour. As part of Immortalised, Historic England is organising a debate and public participation to explore who and what will be remembered in our public spaces, and how we and future generations will commemorate.
People from across England submitted photographs and stories of memorials, locally known and loved, and others that have almost been forgotten by communities and nationally.
Duncan Wilson, Chief Executive of Historic England, said:
"We are very grateful that so many people took the time to tell us about memorials in their communities and the stories behind them.
"At a time when our national statues and memorials are under increasing scrutiny, we're delighted to shine a light on these often undiscovered and under-appreciated markers of our past. Every one of those that's been nominated has a local champion and someone who cares about it and about the story it tells.
"It's important for us all to know who has been commemorated in our public spaces and what this can tell us about our history, as we look at how public memorials are evolving today."
Councillor Peter Moss, Cabinet member for planning and regulation, added:
"We're delighted that the Abstinence Memorial in Preston Cemetery has been recognised by Historic England and will now be Grade II listed.
"The importance of Preston Cemetery and how its monuments map Preston's social history since Victorian times cannot be underestimated.
"If Prestonians want to learn more about the memorial, plus other fascinating facts, they can come along to history tours of the Cemetery during the Heritage Open Day weekend in September."
Preston Abstinence Memorial, Lancashire, Grade II
Located in Preston Cemetery, this memorial, erected in 1859, commemorates the success of the Teetotal Movement. Preston was an early centre of the Temperance movement – the campaign against alcohol which was the major mass-movement social campaign of the 19th century. At a meeting of the Preston Temperance Society in September 1832, the principle of 'Total Abstinence' was adopted.
The memorial is surrounded by monuments to Temperance activists, including Joseph Livesey, the 'Father of Teetotalism'. There is also a monument to Edward Grubb, the last survivor of the 'Seven Men of Preston' who signed the first 'Total Abstinence' pledge in 1832. Grubb is actually buried in Harrogate, but there is a stone in Preston Cemetery that reproduces the inscription from his gravestone.
NB: Heritage Open Weekend in September 2018, tours of Preston Cemetery will be included. Details will be announced at www.visitpreston.com/events
© 2018 Marketing Lancashire