Record Crowds Gather to Celebrate Darwen's Artisan Market and Community Unity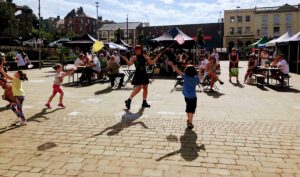 The sun bathed Darwen Market Square in warmth and radiance last Saturday, setting the stage for the much-anticipated Darwen Artisan Market. The event resonated with an invigorating sense of community spirit as residents and visitors came together to celebrate the thriving artistry and creativity that defines Darwen.
This extraordinary market showcased the talents of local artisans and traders, offering a plethora of unique, handcrafted goods that left visitors inspired and enthralled. A standout moment of the day was the captivating performance by local dancers from the Lancashire Dance Academy, leaving the crowds spellbound with their mesmerising moves and high-energy routines, which met with resounding applause.
Artisans at the market reported record-breaking sales, a testament to the enthusiastic support the community extends to its local businesses. The market's diverse range of stalls featured artisanal foods, handcrafted treasures, vintage gems, and artwork to cater to all tastes.
Families enjoyed a day out on Darwen Market Square, learning new skills at the circus workshop as giant bubbles wafted through the air, adding a magical touch to the festivities, particularly captivating the younger crowd.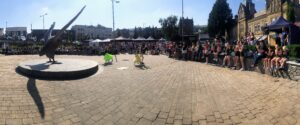 Crafty Vintage, the organisers of Darwen Artisan Market, extend heartfelt appreciation to Darwen Town Council and Blackburn with Darwen Council for their unwavering support. Without their dedication and commitment, this extraordinary event would not have been possible.
Mark your calendars for the next Darwen Artisan Market, returning on Saturday, October 14th, 2023, promising another spectacular lineup of artisans, performers, and family-friendly activities. Laura Johnson, the founder of Crafty Vintage and a driving force behind the market's success, expressed her gratitude, stating, "We're overwhelmed by the tremendous support from everyone involved or attending. Darwen Artisan Market is more than just an event; it's a celebration of our Darwen's creativity and community spirit. We can't wait to bring another unforgettable experience to Darwen on Saturday October 14th."
© 2023 Marketing Lancashire