Restaurant entrepreneur banks on Lytham for new site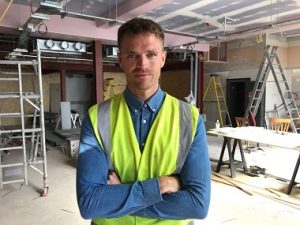 Dean Wilson opts for his hometown of Lytham as next site for expansion of national award-winning Olive Tree Brasserie brand.
Closely following the opening of the Greek/Mediterranean restaurant in Cheshire's prestigious Stockton Heath, Dean has focused on opening another 110 seater venue on Dickinson Terrace, before the Autumn. Dean who has a ten year legacy of generating modern, fresh, Greek-inspired cuisine to food-lovers in the North West, said opening in Lytham's 'restaurant hub and foodie quarter' was a dream come true.
He said: "We've been waiting for the right site to come along for us to set up in Lytham and we're beat off stiff competition from some fantastic restaurant groups, to secure this spot. As soon as planning permission was granted we were straight in and have already made really great headway. We're very excited to finally be opening a site in Lytham after wanting to do this since starting the brand – can't wait to open the doors!"
The characterful, former NatWest Bank building will be designed akin to those existing restaurants with industrial lighting, exposed copper piping and geometric patterned tiles throughout. A centralised copper bar will create both a lively place to drink with friends, celebrate and allow diners to soak up the atmosphere. The new site will also feature Olive Tree Brasseries' signature weekly live music each Friday night, an extensively stocked wine, beer and cocktail bar, as well as a private dining room and function space.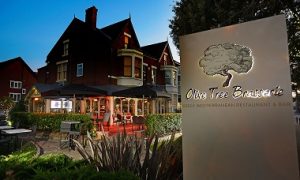 Dean, 32, who has sites in St Annes, Stockton Heath, Chester and Preston too, said: "It's important that when diners come and visit one of our venues that they feel they are getting the real Olive Tree Brasserie experience…fresh, delicious food, beautiful surroundings and a great atmosphere, helped along by our staff and a good soundtrack!"
A new venue in Lytham signals a successful year so far for the brand, which started in St Annes in 2008. Already winners of several Lancashire accolades, it recently bagged the Gold Award for Taste Cheshires' Best Large Restaurant for its Chester site, as well as a nomination for its venue in Stockton Heath in the Warrington Food and Drink Awards for Best Newcomer. In 2017, Dean and his team walked away with the Eat Out Magazine Award for menu development, over Yo Sushi and several national competitors.
The new Olive Tree Brasserie at Bank House, Dicconson Terrace will create not only create 30 jobs for the local area, but Wilson is dedicated to using local tradesmen during the construction too.
© 2021 Marketing Lancashire