Ribby Hall Village's Recruitment Drive – with up to 26 Positions available across the Business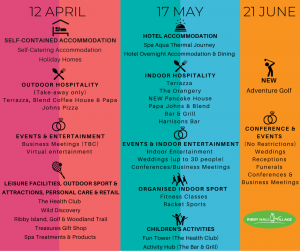 Ribby Hall Village, Lancashire's only five-star Holiday Village plans to commence it's phased re-opening, safely welcoming back day visitors, overnight guests and holiday homeowners from Monday 12 April 2021.
Behind the scenes, Ribby Hall Village is starting to safely welcome back their teams from furlough and their recruitment drive continues in earnest, with up to 26 positions currently available across the business: www.ribbyhall.co.uk/careers
Exciting opportunities are available within The Health Club, various Eateries, including the NEW Pancake House, Terrazza and the business' Banqueting department primarily hosting special occasions such as weddings and events. Another department recruiting is the Holiday Home Sales Office.
Positions include to name a few: Chefs (sous, comis and chef de partie), kitchen apprentices, lifeguards, supervisors, managers, and sales advisors.
As Mark Leech, Director of Operations explains: 'It really is wonderful to be able to plan our phased reopening in line with Government guidance and the law commencing Monday 12 April 2021.  Many of our teams have been away from the business for some time during our temporary closure, and to be a position where we are now starting to safely reboard our employees is great. We are also looking for new talent to join several teams across the business and would urge anyone looking for a new role within Lancashire's only five-star holiday village to check out the opportunities on our website www.ribbyhall.co.uk/careers. We really are looking to the future with optimism and cannot wait to once again safely reopen our gates to everyone."
Lifeguard Training & Recruitment Opportunities
In line with recruiting for several lifeguard positions, Ribby Hall Village is hosting a six-day National Pool Lifeguard Qualification (NPLQ) in one of their award-winning swimming pools from Tuesday 6 – Sunday 11 April 2021.
Learning skills for life, the course will include all elements of pool rescue techniques, lifeguarding theory, first aid and CPR, including the use of an automated external defibrillator (AED). A six-hour exam on the last day of the course will also include theory, first aid and water rescue.
The course including all learning materials, manuals and assessments is priced £230.
Anyone wanting to apply for the NPLQ should in the first instance contact Health Club Manager – Chris Chambers at [email protected] Places on the course are limited to a maximum of 12 and some of the pre-requisites include every candidate must be at least 16-years-old at the time of taking the NPLQ final assessment and be able to:
Jump / dive into deep water
Swim 50 metres in less than 60 seconds
Swim 100 metres continuously on front and back in deep water
Tread water for 30 seconds
Surface dive to the floor of the pool
Climb out unaided without ladder/steps and where the pool design permits
As Mark Leech, Director of Operations further explains: "Once successfully completing the NPLQ course, several lifeguards may be selected, providing a great start to a career in leisure. Many of Ribby Hall Village's lifeguards have chosen to stay with us for many years and have been given the opportunity to progress their careers with us. For example, some are now working within Marketing, and various Management Roles across the business including myself – I really enjoyed my time poolside, earlier on in my Ribby career."
© 2023 Marketing Lancashire