Sodexo Live! achieve Gold for Green Meetings standard at Blackburn Rovers FC
Sodexo Live!, the venue partner at some of the UK and Ireland's most iconic music, cultural and sporting events, has achieved the Green Meetings Gold Award, a new standard for sustainability in meeting and events spaces run by Green Tourism.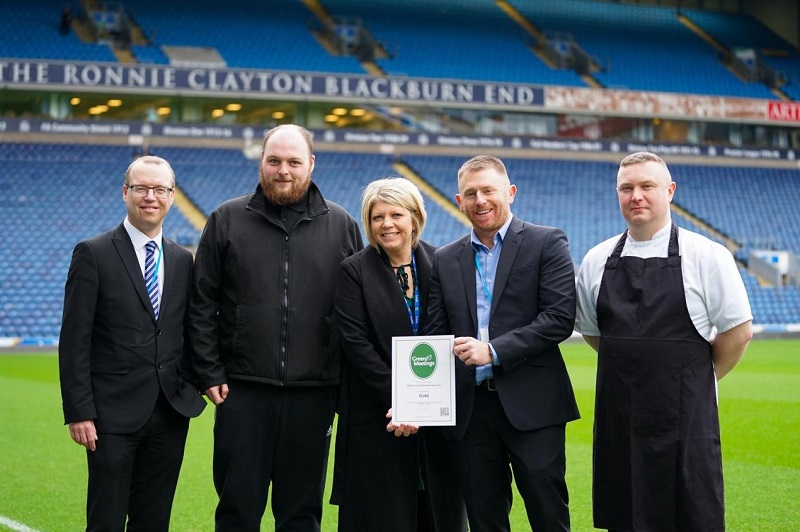 The Sodexo Live! team deliver catering and hospitality at Ewood Park, the home of Blackburn Rovers FC.  The stadium is a versatile space which can be hired for a wide range of events from small business meetings to large corporate dinners for up to 400 guests.
Sodexo Live! is committed to delivering excellence in food and dining experiences with a keen focus on sustainability. This focus is aligned to Green Meetings with its three pillars central to both organisations; caring for people, places and the planet.
The Green Meetings' independent assessors looked at a wide range of criteria from energy, water, and waste through to catering, procurement and travel, as well as awareness, communication and community involvement at Ewood Park.
Rebecca Kane Burton, CEO Sodexo Live! UK&I said: "We are thrilled to have achieved gold, especially as this is the first time we have applied for the Green Meetings accreditation, so to get top marks is a great accolade.
"Our team at Ewood Park is committed to delivering the best in food and hospitality for the fans and hospitality guests attending events there.  Our talented chefs develop innovative menus for all our customers using seasonal and local produce as much as they can. We work closely with the football club to support the local community from food bank drives through to fundraising.
"Achieving gold standard reinforces our commitment to delivering memorable experiences, sustainably. We know how important sustainable excellence is for our venue partners, and this accreditation from Green Meetings is a highly credible endorsement, which allows people to book their event at Ewood Park with confidence."
Blackburn Rovers' Head of Operations, Lynsey Talbot, said: "Blackburn Rovers were thrilled to hear of Sodexo Live!'s Gold standard achievement in the Green Meetings accreditation. The club are working on their own sustainability standards in line with the EFL and it is great to see our partners leading the way in regard to the food and beverage operation. 
"Football can be a real driver in sustainability and environmental awareness and it is important that we lead from the front to preserve our clubs and the settings to which they belong for many years to come."
Feedback from the Green Meetings assessors included: "The team have displayed an excellent understanding of sustainability and awareness of opportunities and challenges associated with running a responsible business. They have demonstrated their commitment to sustainability and green issues throughout the assessment. I know that going forward they will strive not only to retain their gold award but to better their achievement with the same enthusiasm that they have shown with this first assessment."
For over 25 years Green Tourism has assessed and accredited the sustainable practices of businesses. In June 2021 it created a new standard specific to meetings and events venues, the Green Meetings standard.
© 2023 Marketing Lancashire