Some of the performers revealed for this year's Blackpool Illuminations Switch-On concert.
Source: Visit Blackpool
22 July 2021
VisitBlackpool has revealed details of some of the performers who will grace the stage at this year's Blackpool Illuminations Switch-On concert.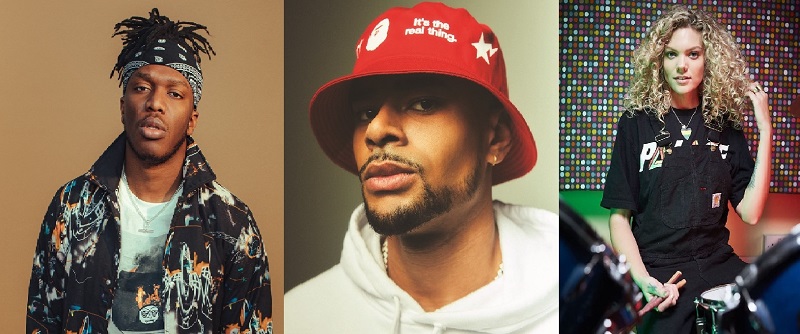 They include KSI, 2020's biggest breakthrough artist. He will perform in the world-famous Blackpool Tower Ballroom on the night of Friday 3 September to mark the start of a four-month extended Illuminations season.
Another of music's hottest new talents, Wes Nelson, will also perform on the Switch-On stage with more acts to be announced over the coming weeks.
It is the first time in history that an Illuminations Switch-On – the biggest event in Blackpool's calendar – has been staged in the ballroom.
Produced in association with MTV, the show will be hosted by TV and radio presenter Becca Dudley, and will be watched at the venue by a live audience made up of winners of a free-to-enter ballot.
The show will also be live streamed across MTV and VisitBlackpool channels. Last year, the free-to-access streamed event attracted more than 225,000 global views.
At the age of 28, KSI, who has made his name as a respected music artist, has created an astonishing following with 34 million subscribers to his YouTube channel with a staggering six billion views.
His eagerly-awaited second studio album, All Over The Place, is currently heading to the top of the Official Albums Chart, out-selling the rest of the top five artists combined.
He has a string of festival dates and sold-out UK shows this summer, and is set to headline a sold-out show at the SSE Arena at Wembley in February.
KSI will perform in the ballroom, which has just reopened after a £1m makeover, with his special guests Digital Farm Animals and Grammy-nominated music artist and producer S-X, who has worked with the likes of Lil Wayne, Childish Gambino and Chance The Rapper.
Few UK pop artists have made such an instant commercial impact as Staffordshire-born Wes Nelson.
Capitalising on his popularity after stints on Love Island and Dancing On Ice, Wes's Gold Certified debut single See Nobody stormed up the UK charts reaching number 3 and achieving over 70m streams.
His second single, Nice To Meet Ya, followed earlier this year spending six weeks in the official UK charts before making waves internationally, hitting number 5 in Germany in July and already breaking over 50m streams!
A VisitBlackpool spokesperson said: "We are thrilled to be able to reveal some of the talent that will light up this year's Illuminations Switch-On concert. KSI and Wes Nelson are two of the hottest new stars in the music industry and bring with them a colossal fan-base.
"With more talent to be announced, along with the person who will switch on this year's extended Illuminations, it all promises to be an unforgettable night for those watching in the ballroom or via the live stream."
Around 1,500 tickets will initially be available to join the live audience. Any ticket allocation will be split equally between local residents and visitors.
In the meantime, you can register to enter the ballot for free tickets (maximum of four per person) at this link. Applications will close on Monday 2 August.
The live stream will start at 8pm on Friday 3 September and can be viewed free of charge at:
visitblackpool.com/switchon, youtube.com/mtvinternational and facebook.com/mtvmusicuk
This year's Blackpool Illuminations will run from Friday 3 September to Monday 3 January, 2022.
© 2023 Marketing Lancashire