Something new in the Spud Shed
At the beginning of October the Owd Barn, at Spencer's Farm near Ormskirk Lancashire, officially opened its newest attraction, The Spud Shed; a mixture of high-spec retail units, bringing together under one roof, a range of local businesses that look set to become Lancashire's newest well-being destination.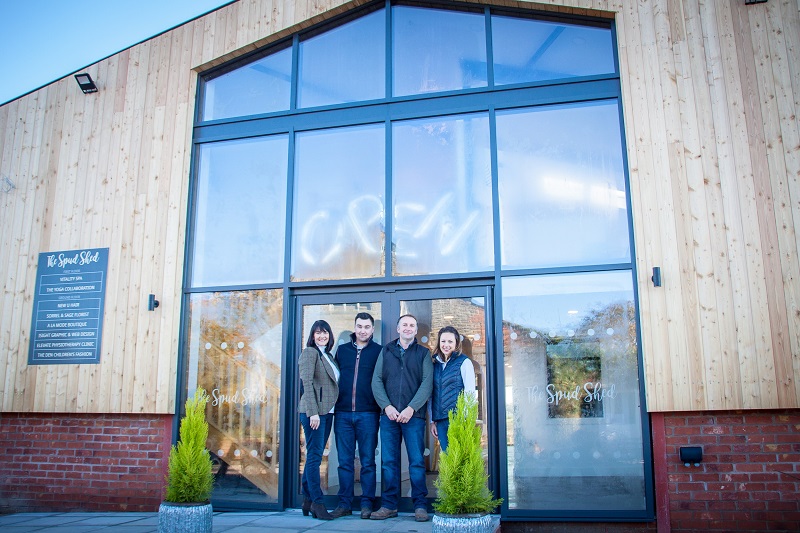 The farm's former potato store is now a stylish new home to eight businesses, following a year-long transformation designed by LMP architects of nearby Whittle-le -Woods. The new residents include yoga, spa, physiotherapy and hair dressing businesses, as well as adult and children's clothing boutiques, a florist and creative web design company.
Spencer's Farm has passed through the generations to Eric and Brenda Ashcroft, who have been welcoming visitors onto the farm for over thirty years, firstly with their farm shop and country store, then with their hugely popular tearoom and gift shop.
The owners' daughter and retail manager Helen Charlesworth comments,
"The retail units have always been part of the long-term plan and 2020 was the year we chose to make it happen. Though Covid could so easily have set us back, we've managed to complete the project and fill all of the spaces and we're delighted to have finally opened.
"We've created a well-being barn, quite unintentionally, by attracting the businesses we have and we're looking forward to creating packages and offers, that make people feel relaxed and truly pampered whenever they visit. The businesses involved complement what we do at the Owd Barn and each other perfectly."
"It's hard to believe that this time last year the shed was still full of potatoes."
The Owd Barn is a family affair with Brenda still looking after the farm shop and tea room she set up all those years ago, Eric and his sons running the 200acre farm, with sister-in-law, nieces and nephew also involved. The Spud Shed is situated opposite the 16th Century barn where the farm shop, country store, tearoom & ice cream parlour and gift shop attract a healthy, footfall of around 2,000 visitors a week.
Clare de Sousa is owner of Vitality Spa, one of the first to secure a large unit in the Spud Shed. She established Vitality Spa over 25 years ago and after many successful years at Wrightington Country Club was looking for a change.  "Last October I went to meet with Helen and, looking beyond the mountain of potatoes, there was a clear and exciting vision of an attractive new facility for the area and for the future of Vitality Spa" said Clare.
"My clients enjoy high quality professional treatments and retail products, within a relaxed and friendly environment. I'm looking forward to welcoming them to our new spa and I know they'll love being here just as much as I do."
For more information visit www.owdbarn.com
Or call in at The Owd Barn, Spencer's Farm, Rufford Road, Bispham, Nr Ormskirk L40 3SA
Tues-Fri:  10am – 5pm / Sat & Sun 10am – 5pm / Closed Monday (Except Bank Holidays)
© 2020 Marketing Lancashire